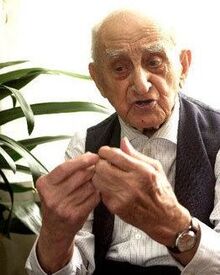 Alois Vocasek [Czech: Alois Vocásek] (13 April 1896 – 9 August 2003) was the last surviving Czechoslovakian veteran of the First World War and the last survivor of the Battle of Zborov in Ukraine. He was one of thousands of Czechs and Slovaks who broke with the Austro-Hungarian monarchy to fight for the future Czechoslovak state as members of the Czechoslovak Legions. He was later controversial because of his membership in the Czech fascist/nationalist organisation Vlajka in the 1930s.
He was the oldest member of the Seventh-day Adventist Church in the Czech Republic. He is buried at the Olšany Cemetery.
Ad blocker interference detected!
Wikia is a free-to-use site that makes money from advertising. We have a modified experience for viewers using ad blockers

Wikia is not accessible if you've made further modifications. Remove the custom ad blocker rule(s) and the page will load as expected.