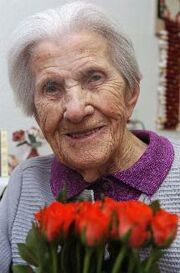 Aloysia Tilscher (9 December 1893 – 8 November 2004) was a Czech-German supercentenarian.
Biography
Aloysia Tilscher was born in present-day Czech Republic. After graduating in 1915, she taught home economics and handicraft. Since 1960, she has lived in Nuremberg in the German state of Bavaria. She moved to a local nursing home at age 103 after suffering a stroke. She never married and had no children. She was the oldest living person in Germany after the passing of Gisela Metreweli on 31 July 2004. Aloysia Tilscher died on 8 November 2004 at the age of 110 years, 335 days. [1]
References
Ad blocker interference detected!
Wikia is a free-to-use site that makes money from advertising. We have a modified experience for viewers using ad blockers

Wikia is not accessible if you've made further modifications. Remove the custom ad blocker rule(s) and the page will load as expected.