Anne Brasz-Later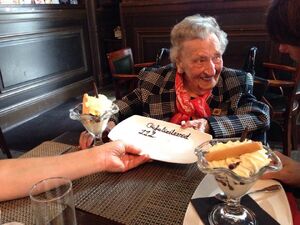 Anne Brasz-Later on her 111th birthday.
Unvalidated
Anne (An) Brasz-Later
(born 16 July 1906) is a
Dutch supercentenarian
who is currently unverified. She is the second-oldest person in the Netherlands, behind
Geertje Kuijntjes
. She is also believed to be the last living Dutch person born in 1906.
Biography
Anne Brasz-Later was born in the city of Goes in the province of Zeeland, Netherlands on 16 July 1906. She gave birth to her first child, Hendrik Brasz, in 1933 (who now lives in Australia). A year later, in 1934, her first daughter, Elisabeth Cummings, was born (who moved from Portland, Oregon, USA, a couple of years ago) and two years later, in 1936, she gave birth to her last daughter and child.
At age 3, Mrs. Brasz-Later moved to Indonesia (then the Dutch colony 'Dutch East Indies') and lived there for 40 years until she returned to her native country In 1949, at age 43. In her later years, she started to live in an apartment near a retirement home in Transwijk in the town of Utrecht.[1] Unfortunately, she can't attempt many things, as her daughter Elisabeth stated: She suffers a lot on her neck and legs. Besides that, she can only move on with a rollator . Mrs. Brasz-Later prefers to be left alone on special occasions such as her birthday. In 2016, she and her daughter went on holiday to Maastricht in the province of Limburg to avoid the press and the mayor's visit. Even though the press and the mayor aren't welcome, she still enjoys life, as her daughter Elisabeth stated: Mom is ok, she still remembers most things very good. If it's possible, she is planning to stay here for a while.[2]
Gallery
References