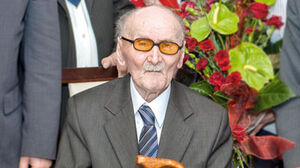 Antoni Wojciechowski (15 November 1906 - 19 May 2016) was a Polish centenarian, veteran of World War II, and the oldest living man in Poland at the time of his passing.
Mr. Antoni Wojciechowski was born in Rydzyna County. In 1939, he took part in the September campaign, fought in the Swietokrzyskie region and was taken to German captivity. After the war, he worked at a local building facility. In 2015, he celebrated his 109th birthday. Having surpassed the age of Franciszek Karwowski (1895-2005) by two days, Antoni Wojciechowski is recognised as the male longevity recordholder (by place of death) of Poland. At the time of his passing, he was among the oldest men in Europe. He died on 19 May 2016 at the age of 109 years, 186 days. [1][2]
References
Ad blocker interference detected!
Wikia is a free-to-use site that makes money from advertising. We have a modified experience for viewers using ad blockers

Wikia is not accessible if you've made further modifications. Remove the custom ad blocker rule(s) and the page will load as expected.