Unsourced

This article is in need of references to confirm its validity. Please help the Gerontology Wiki by adding sources.
Please remove this message when finished.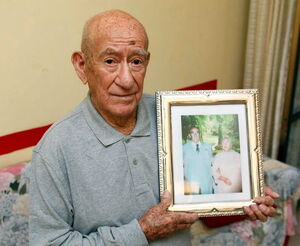 Arcenio Cobba Balcazar (7 July 1906?- 21 July 2017) was a Peruvian-Italian supercentenarian that is currently unverified. He was potentially the second-oldest living man in Italy, after Valerio Piroddi (1905-2017), but doubts have been raised about his claim by GRG correspondents. [citation needed] He ate corn, grain, papaya, and simple cheese.
Ad blocker interference detected!
Wikia is a free-to-use site that makes money from advertising. We have a modified experience for viewers using ad blockers

Wikia is not accessible if you've made further modifications. Remove the custom ad blocker rule(s) and the page will load as expected.