Carla Porta Musa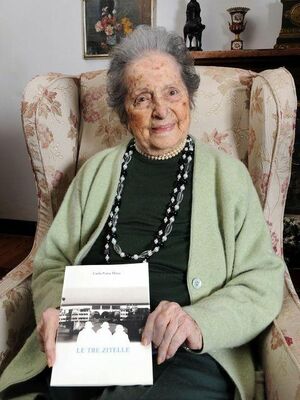 Validated
Carla Porta Musa (15 March 1902 – 10 October 2012) was an verified Italian supercentenarian, essayist and poet.
Musa was born in Como, Italy, to Maria Casella and Enrico Musa, a well known engineer in Milan. Her passion for books started on her sixth birthday when her father gave her a small library which she shared with her three siblings. She studied in Lausanne, Switzerland, Bushey, United Kingdom, and Paris, France.
She died on 10 October 2012 at Valduce Hospital in Como from pneumonia complications, aged 110 years, 209 days.
References
Ad blocker interference detected!
Wikia is a free-to-use site that makes money from advertising. We have a modified experience for viewers using ad blockers

Wikia is not accessible if you've made further modifications. Remove the custom ad blocker rule(s) and the page will load as expected.