Celina Fernandez Pacheco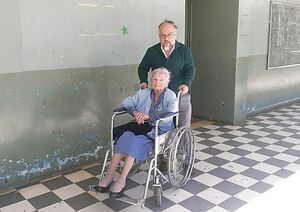 Celina with her son, Francisco Antonio Pacheco
Unvalidated
Celina Fernandez-Pacheco (22 January 1906 – 16 October 2016) was a Costa Rican supercentenarian who is currently unverified.
Biography
Celina was born in Alajuela, Costa Rica on 22 January 1906. Her birth name is Maria Celina de Jesus Fernandez Solorzano. She married Antonio Pacheco Perez. They had three children: Oscar, Maria Cecilia and Francisco.
Ad blocker interference detected!
Wikia is a free-to-use site that makes money from advertising. We have a modified experience for viewers using ad blockers

Wikia is not accessible if you've made further modifications. Remove the custom ad blocker rule(s) and the page will load as expected.