Dorothy Wagner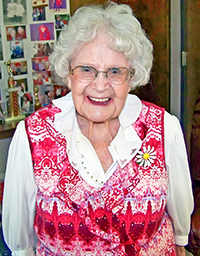 Validated
Dorothy Marie Wagner (nee Stinson; born 2 September 1904) is a verified American supercentenarian.
Biography
Dorothy was born in Centralia, Illinois on 2 September 1904 as the daughter of Eddie (Edward) and Nellie Stinson. She married Howard Wagner in 1928. Her husband was taken into the U.S. Army at age 38. They had a 12-year-old son at that time. She gave birth to her son Kenneth at age 25. Thereafter she had another son, Ted, at the age of 43. Her husband died in 1983. At the age of 103, Dorothy Wagner became a member of the LDS Church.
References
Ad blocker interference detected!
Wikia is a free-to-use site that makes money from advertising. We have a modified experience for viewers using ad blockers

Wikia is not accessible if you've made further modifications. Remove the custom ad blocker rule(s) and the page will load as expected.