Dorothy West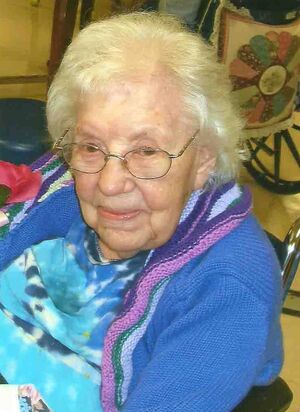 Dorothy West prior to her 109th birthday.
Unvalidated
Dorothy Helen West (née Hudson) (28 July 1907 – 30 January 2018) was an American supercentenarian whose age is currently unvalidated by the Gerontology Research Group (GRG). She was one of the oldest known living people in Missouri, USA.
Biography
Dorothy West was born Dorothy Helen Hudson on 28 July 1907 in Knox, Missouri, USA, to parents Pendleton Allen Hudson and Mary Susan (née Rice) Hudson. She had two siblings, Margaret and Roberta. She later became a teacher and taught for over 40 years at various schools in Missouri.
Dorothy married Glen West in Schuyler, Missouri, in the 1930s and had a son with him, Dr. Ronald West, in the 1940s. She later moved to Clinton, Missouri, USA, and was widowed when Glen passed away in 1986. In her later life, she moved into Clinton Healthcare in Clinton, Missouri.
Dorothy West passed away on 30 January 2018 in Clinton, Missouri, USA at the age of 110 years, 186 days.
References
This is a stub starter, designed to be the starting point for further expansion on this article.