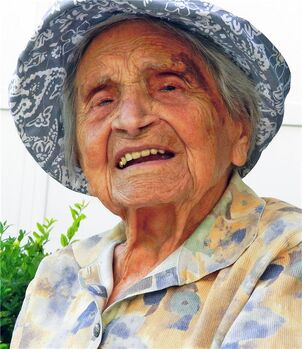 Elisabeth Trankner
[German: Elisabeth Tränkner] (born 11 August 1906) - is an unvalidated German supercentenarian who is one of the oldest living people in Germany.
Biography
Elisabeth Trankner was born in Frankfurt am Main on Aug. 11, 1906. She early lost her mother and lived with her grandparents until her father married again. In 1939, Elisabeth married engineer Walter Trankner, but widowed in 1945. She worked as an accountant at Fouquet & Frauz.
Presently, Elisabeth Trankner lives in Rothenburg am Neckar. On her 110th birthday, she was greeted by Winfried Kretschmann, Prime Minister of Baden-Wurttemberg.[1]