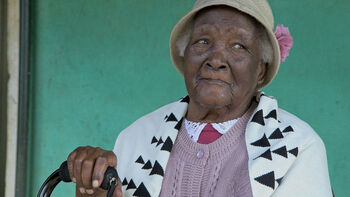 Elizabeth Gathoni Koinange (1900?- ) is a Kenyan claimant to age 117. She was famous before old age as one of the wives of an important pre-independence Kenyan chief.
A 1 March 2013 tabloid article in the UK listed her as "112". The upcoming BBC documentary alludes that her date of birth may be in April.
Sources
http://www.dailyo.in/user/13042/priscillangethe
https://issuu.com/metroadvertiser.com/docs/metro_advertiser_001-march_2013
http://docs.exdat.com/docs/index-273774.html?page=7
http://www.metroadvertiser.com/index.php/lifestyle/120-this-is-where-jomo-used-to-hold-secret-meetings-mama-gathoni-koinange
stub starter
Ad blocker interference detected!
Wikia is a free-to-use site that makes money from advertising. We have a modified experience for viewers using ad blockers

Wikia is not accessible if you've made further modifications. Remove the custom ad blocker rule(s) and the page will load as expected.