Ellie Lawther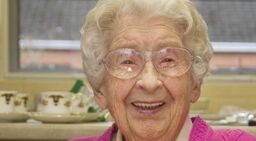 Ellie Lawther at her 108th birthday.
Centenarian
Ellie Lawther
(6 March 1909 – 16 June 2018) was a Northern Irish centenarian who was the oldest living person in Northern Ireland from the death of Margaret Dunbar on 14 February 2017 until her death.
[1]
Biography
Ellie Lawther was born on 6 March 1909, a time when Northern Ireland had not yet come into existence. She married to her late husband Harold at 24, they had three children. She died at Royal Victoria Hospital, Belfast on 16 June 2018 after a short illness.[2]
References