Ellie Lawther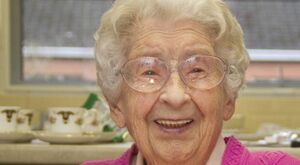 Ellie Lawther at her 108th birthday.
Centenarian
Ellie Lawther (born 6 March 1909) is a Northern Irish centenarian who is the oldest living person on the Northern Ireland since the death of Margaret Dunbar on 14 February 2017.[1]
Biography
Ellie Lawther was born on 6 March 1909, a time when Northern Ireland had not yet come into existence. She married to her late husband Harold at 24, she had three children.
References
Ad blocker interference detected!
Wikia is a free-to-use site that makes money from advertising. We have a modified experience for viewers using ad blockers

Wikia is not accessible if you've made further modifications. Remove the custom ad blocker rule(s) and the page will load as expected.