Émile Turlant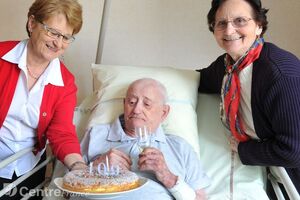 Centenarian
Emile [French: Émile] Turlant (1 April 1904 – 15 September 2013) was a French centenarian who was the oldest living man in France since the death of 109-year-old Louis Le Bouedec on 21 August 2012. He died on 15 September 2013, after having held the title of oldest living French man for over a year. 
Biography
In the late 1920's he moved to Paris to work in factory making parachutes. In 1932 he married Lucienne Crête, a seamstress, but didn't have any children. He was mobilized during World War II but was not called up to fight. He worked during the night while she worked during the day, which Turlant said "prevented them from spending a lot of time together".
Emile Turlant died on 15 September 2013 aged 109 years, 167 days.