Francisco Núñez Olivera



Francisco Nunez Olivera at the age of 112.

Birth:
13 December 1904
Bienvenida, Extremadura, Spain
Age:

112 years, 343 days

Country:
ESP
Unvalidated
Francisco Nunez Olivera [Spanish: Francisco Núñez Olivera] (born 13 December 1904) is a Spanish supercentenarian who is, at the age of 112 years, 343 days, believed to be currently the oldest living man in Spain and Europe, and most probably the oldest man in the world since the death of Israel Kristal on 11 August 2017. He is also the third-oldest living Spanish person.
Personal Life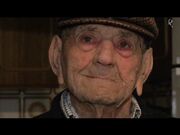 Francisco was born in Extremadura in Spain on 13 December 1904. He is known fondly as "Marchena", a nickname given to him when a boy mistook him for the famous Spanish singer, Pepe Marchena. When he was 19, he joined the army and went to Morocco. He has four children, nine grandchildren and 14 great-grandchildren, all of whom were alive at the time of his 110th birthday. He also has a sister who was alive at the age of 91 on his 110th birthday.
References
Ad blocker interference detected!
Wikia is a free-to-use site that makes money from advertising. We have a modified experience for viewers using ad blockers

Wikia is not accessible if you've made further modifications. Remove the custom ad blocker rule(s) and the page will load as expected.