Freddy Blom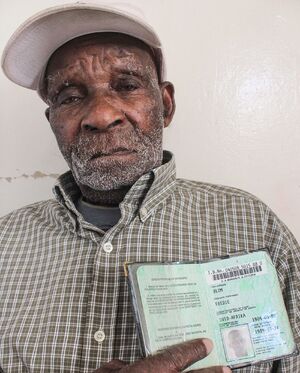 Freddy Blom on his claimed 113th birthday.
Longevity claimant
Freddy Blom (born 8 May 1904?) is a South African supercentenarian claimant whose age is currently unvalidated by the Gerontology Research Group (GRG). If his claimed age is true, he could be the oldest known living man in the world.
Biography
Freddy Blom claims to have been born on 8 May 1904 in Adelaide, Eastern Cape, South Africa. He had a brother named Jan Blom. He married a woman named Jennette, who was 83 at the time of Freddy's claimed 113th birthday. Freddy never had any children of his own, but Jennette has a 44-year-old grandson (as of 2017), Frederick Lottering, who lives with them.
Freddy was often seen until the age of 106, walking to the bush with his cart to chop wood. He gave up smoking in 2016. On his claimed 113th birthday in 2017, it was reported that Freddy has pains in his legs, but walks using his cane and can still hear faintly. He said he "still feels good and lives every day according to the will of God".
Freddy Blom currently lives in Cape Flats, Cape Town, Western Cape, South Africa, at the claimed age of 114 years, 162 days.
References