Gallai Rezso


Birth:
29 January 1904
Szombathely, Austria-Hungary
(now Hungary)
Death:
25 September 2014
Győr, Hungary
Age:
110 years, 239 days
Country:
HUN
Pending
Gallai Rezso [Rezső] (29 January 1904 – 25 September 2014) was a Hungarian pending supercentenarian who lived to the age of 110 years, 239 days. He was the oldest living man in Europe after the death of 111-year old Arturo Licata on 24 April 2014 until his own death. After his passing, Philippe Vocanson of France became the oldest living man in Europe.
Biography
Gallai was born in Szombathely. He was raised in a foster home. He married twice and had two sons, both of whom he outlived. During World War II he served in the military in present-day Ukraine, where he was injured in partisan attacks. He worked in the water department until he was 98 years old. His second son died in 2011.
Reference
Gallery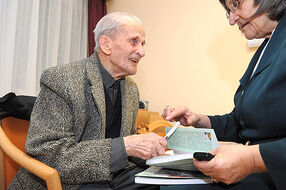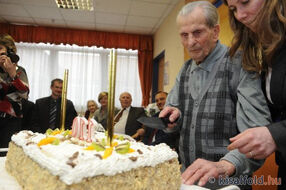 Ad blocker interference detected!
Wikia is a free-to-use site that makes money from advertising. We have a modified experience for viewers using ad blockers

Wikia is not accessible if you've made further modifications. Remove the custom ad blocker rule(s) and the page will load as expected.