Gerhart Schneider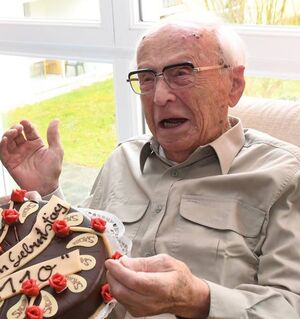 Gerhart Schneider on his 110th birthday.
Unvalidated
Gerhart Schneider (born 13 March 1908) is a German supercentenarian who is the second-oldest living man in Germany behind Gustav Gerneth.
Schneider was born on 13 March 1908 in Halberschwerdt, which is in what was then Germany, but is now Poland. Both his grandfather and father were millers and he followed in the footsteps of them. In his working life he worked in 13 different mills, including over 30 years in the still existing mill in Cologne Deutz as a master.
A year after his wedding, he took over his parents' business in Halberschwerdt, Silesia, but then had to go to the front in the World War II and fell into French and American captivity. Later he was expelled from his homeland and in 1977 he built his own home in Paffrath near Bergisch Gladbach. Schneider had two sons, of whom only 74-year-old Klaus-Dieter was alive on his 109th birthday.
He acquired a driver's license in 1926 and stopped driving at age 102.
Since 2000, Schneider lives in the Senior Center Otterbach.
References