Greet Hogenhout-van Kerkhof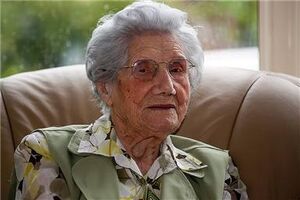 Unvalidated
Greet Hogenhout-van Kerkhof (28 August 1905 - 8 September 2015) was a Dutch supercentenarian who is currently unverified.
Mrs. Hogenhout-van Kerkhof was born on 28 August 1905 in Vijfhuizen in the province of North-Holland, Netherlands. She married Nico Hogenhout, with whom she had six children (of whom two she survived), 9 grandchildren and 17 great-grandchildren. She lived on a farm in Osdorp until 1956, when she and her husband were forced to moved due to the construction of the new neighborhood Westelijke Tuinsteden in the capital of Amsterdam. She eventually moved to Badhoevedorp and lived there own her own until 1998. It was reported that at age 106, though she had some hearing problems, her mind was still sharp and she was still able to take care of her self, such as cooking and knitting (for the Red Cross movement).
Mrs. Hogenhout-van Kerkhof was the first person ever in the municipality of Haarlemmermeer who reached the age of 110. At the time of her death, she was the oldest living person in North-Holland and the second oldest living person in The Netherlands, behind Geertje Kuijntjes (if Nelly de Vries-Lammerts, who died on 27 August 2015, would have lived just another day longer, Mrs. Hogenhout-van Kerkhof would be the third oldest living supercentenarian in The Netherlands).
Mrs. Hogenhout-van Kerkhof passed away on 8 September 2015 at the age of 110 years, 11 days.
References