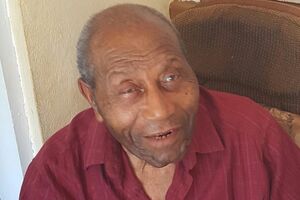 Harland (sometimes reported as "Harold" in the media) Fairweather (15 April 1920 -19 April 2017) held the Guinness World Record for the "oldest child with a parent living". Harland was the oldest of six children. Born in Jamaica, Harland lived for a time in the UK before returning to Jamaica in his old age.
His mother, Violet Brown (1900-2017), was 117.
Age Record
Harland was featured in Guinness World Records, 2016 edition, page 54 as the oldest living child with a parent living. He became the first validated male child with a parent living to reach the age of 97.
Sources
Ad blocker interference detected!
Wikia is a free-to-use site that makes money from advertising. We have a modified experience for viewers using ad blockers

Wikia is not accessible if you've made further modifications. Remove the custom ad blocker rule(s) and the page will load as expected.