Helene Nilsen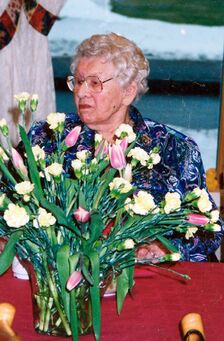 Validated
Helene Andrea Nilsen (née Paulsen; 7 April 1901 – 31 October 2011) was a validated Norwegian supercentenarian.
Biography
Helene Andrea Paulsen was born in Kragero on 7 April 1901. At the time of her death, she was the oldest living person in Norway, and became known as supercentenarian having completed 110 years of age in 2011.
Having lived for many years in Rjukan she moved along with her spouse, Arne Nilsen, to Drammen in 1972. She remained there for the rest of her life.
Helene Andrea Nilsen died on 31 October 2011, aged 110 years, 207 days, at Mountain residence and service in Drammen around by her family.[1]
References
Ad blocker interference detected!
Wikia is a free-to-use site that makes money from advertising. We have a modified experience for viewers using ad blockers

Wikia is not accessible if you've made further modifications. Remove the custom ad blocker rule(s) and the page will load as expected.