Ingeborg Damgren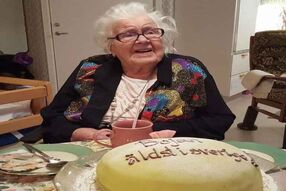 Centenarian
Ingeborg "Bojan" Damgren (née Sundberg; 7 May 1906 – 5 May 2016) was a Swedish centenarian who was the oldest living person in Sweden from 7 October 2015 until her own death.
Biography
Ingeborg Martina Damgren was born in Ovansjo, Sweden, on 7 May 1906. She was one of four children born to trade manager Per Olof Sundberg and Ulrika Sundin. She had a son, who was born in 1939 and died in 1997.
Damgren passed away on 5 May 2016, two days before what would have been her 110th birthday.
References
Ad blocker interference detected!
Wikia is a free-to-use site that makes money from advertising. We have a modified experience for viewers using ad blockers

Wikia is not accessible if you've made further modifications. Remove the custom ad blocker rule(s) and the page will load as expected.