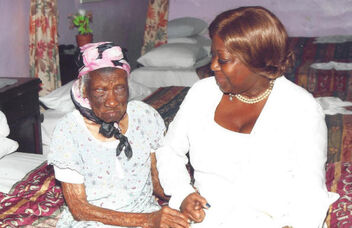 Irene "Dairene" Carlos (23 January 1902 – 8 September 2012) was an Antiguan and Barbudian supercentenarian who is currently unverified.
Irene was born in Freetown Village, Antigua and Barbuda. She lived her whole life in said village. She has never had children nor has she ever been married. She was moved to Fiennes Institute in June 2009. On her claimed 110th birthday, she was hearing impaired and was almost blind.
Irene passed away on 8 September 2012 at the claimed age of 110 years, 229 days.
References
Ad blocker interference detected!
Wikia is a free-to-use site that makes money from advertising. We have a modified experience for viewers using ad blockers

Wikia is not accessible if you've made further modifications. Remove the custom ad blocker rule(s) and the page will load as expected.