Iris Branch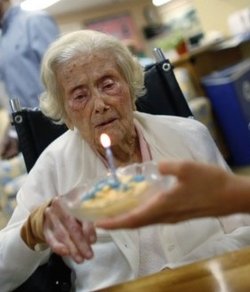 Pending
Iris Branch (née Godfrey; 14 May 1903 – 26 May 2014) was an American supercentenarian who is currently pending.
Biography
Iris Branch was born Iris Godfrey in Virginia, USA, to parents Walter "Papa" and Florence (née Roberts) Godfrey. She was one of 17 children. She grew up on a farm, which was where she developed her lifelong passion for gardening.
At the age of 18, she met Linwood O. Branch, and they married soon after. Linwood worked as the Purchasing Agent in Norfolk, Virginia, and the couple purchased a property and named it 'The Lynn-Dee Motel' after their 2 sons, Linwood Jr. and Deon. Her husband passed away in 1977 after 56 years of marriage.
Iris was a member of the Cavalier Garden Club, Virginia Beach Methodist Church, the Beasley Bible Class, Princess Anne Country Club, and was an active member of the Circle of the King's Daughters.
Iris Branch died on 26 May 2014 in Virginia, United States, at the age of 111 years, 12 days.[1]
References
Ad blocker interference detected!
Wikia is a free-to-use site that makes money from advertising. We have a modified experience for viewers using ad blockers

Wikia is not accessible if you've made further modifications. Remove the custom ad blocker rule(s) and the page will load as expected.