Isabelle Boizeau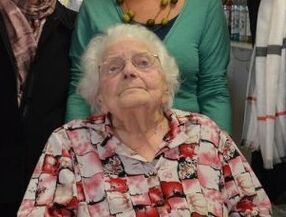 Unvalidated
Isabelle Boizeau (née Billaud; 18 November 1905 – 25 November 2017) was a French supercentenarian whose age is currently unverified by an international validating authority.
Boizeau was born on 18 November 1905 in Saint-Martin-des-Champs, Yonne, France. She came to Châlette-sur-Loing after marriage. She is the widow of Louis Gabriel Charles Jean Boizeau. They had two children, twins, a boy and a girl.
Boizeau died in Montargis, Loiret, France, on 25 November 2017, a week after her 112th birthday.
References
Ad blocker interference detected!
Wikia is a free-to-use site that makes money from advertising. We have a modified experience for viewers using ad blockers

Wikia is not accessible if you've made further modifications. Remove the custom ad blocker rule(s) and the page will load as expected.