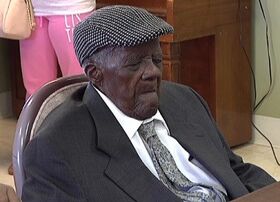 James Clifford Richardson (2 January 1905 – 29 April 2015) was an American supercentenarian who was at the time of his death at the age of 110 years, 117 days, excluding the cases of Wash Wesley and Andrew Hatch, the oldest man in the United States. While he claimed birth in 1904, research suggests he was a year younger.
References
Ad blocker interference detected!
Wikia is a free-to-use site that makes money from advertising. We have a modified experience for viewers using ad blockers

Wikia is not accessible if you've made further modifications. Remove the custom ad blocker rule(s) and the page will load as expected.