Jan Pieter Bos


Birth:
12 July 1891
Papendrecht, Netherlands
Death:
15 December 2002
Rotterdam, Netherlands
Age:
111 years, 156 days
Country:
NED
Validated
Jan Pieter Bos (12 July 1891 - 15 December 2002) was a Dutch supercentenarian who was, at the time of his death, the oldest living man in the Netherlands, the second oldest person in the country, behind Hendrikje van Andel-Schipper and the third-oldest living man in Europe, behind Joan Riudavets-Moll of Spain and Giovanni Frau of Italy. He was the second Dutch-born man who became a supercentenarian, after Geert Adriaans Boomgaard became it more than onehundred years ago.
Bos still holds the title of being the oldest man born in the Netherlands.[1]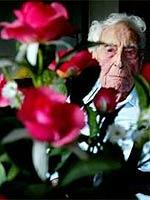 References
Edit