Jane Ising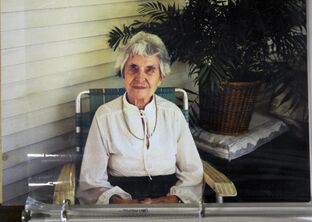 Unvalidated
Johanna "Jane" Ising (born Johanna Annette Ehmer; 2 February 1902 – 2 February 2012) was a German-American economist and supercentenarian.
Life
Ising was born in Berlin. She studied economics at the Frederick William University in Berlin. In 1926, Ising wrote a thesis on "The problem of unemployment in England after 1920, and received a doctorate degree.[1] She married Ernst Ising on 23 December 1930. The married couple lived in Caputh, Brandenburg, next to the famous summer residence of the Einstein family. In 1938, the Jewish boarding school in Caputh, where the Isings worked, was devastated by the Nazis.[2] The following year, the Isings emigrated to Luxembourg. After the German Wehrmacht occupied Luxembourg, Jane's husband was forced to work in the army. The same year, Jane gave birth to their son Tom in Luxembourg. In 1947, Ising emigrated to the United States, settling down in Peoria, Illinois in 1949, teaching economics and German in the public school system and Bradley University.
She moved to Matteson, Illinois in 2007. Ising died in her sleep in the early hours of her 110th birthday.
References
Ad blocker interference detected!
Wikia is a free-to-use site that makes money from advertising. We have a modified experience for viewers using ad blockers

Wikia is not accessible if you've made further modifications. Remove the custom ad blocker rule(s) and the page will load as expected.