Jennie Sutherland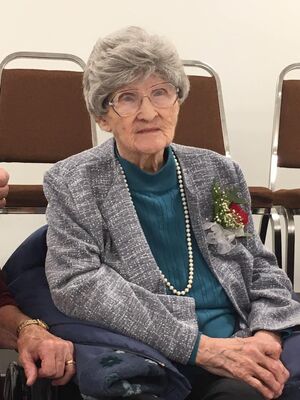 Unvalidated
Jennie Irene Sutherland
(née
Thompson
; 4 October 1906 – 15 March 2018) was an American-born Canadian supercentenarian who is currently unvalidated.
Biography
Sutherland was born on a farm near Glenwood, Minnesota, USA in 1906. She was the ninth of ten siblings. Her parents had emigrated from Norway in the late 1800s. The family moved to Karlstad and Donaldson, Minnesota when she was about four, then to Bend, Oregon five years later.
In 1920, the family moved to Barrhead, Alberta, Canada, where Sutherland finished her schooling. In 1927, she married William Sutherland, settling on his homestead in Summerdale, Alberta. They had eight children, including one daughter who died two days after she was born. In the 1950s, the couple moved to Barrhead and became librarians in the school and public library until 1970 when they retired. William died in 1987.
Sutherland had 26 grandchildren and 129 direct descendants in five generations after her. She most recently lived in Barrhead.
References