Johanna Boost-Dalloyaux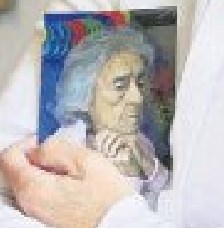 Validated
Johanna Boost-Dalloyaux (28 August 1898 – 1 June 2009) was a Dutch supercentenarian whose age is validated.
Biography
Johanna Helena Maria Christina (Jopie) Dalloyaux was born in Bussum, North Holland, Netherlands on 28 August 1898 to parents Johannes Andreas Dalloyaux (1863–1933) and Elisabeth Susanna Helena de Groot (1863–1929). On 23 September 1925, when she was 27 years old, she married August Gerard Marie Boost (1900–1985) in Laren, North Holland, with whom she would have one child, but it probably already died at birth.
In 2009, she broke the longevity record of the province of North Holland, previously held by Margaretha Eijken (1875-1986). Johanna Boost-Dalloyaux died on 1 June 2009 in Bussum at the age of 110 years, 277 days. As of today, she remains the oldest person ever from the province of North-Holland. She was buried a week later, 8 June 2009, in The Hague, South Holland, Netherlands.
References
Ad blocker interference detected!
Wikia is a free-to-use site that makes money from advertising. We have a modified experience for viewers using ad blockers

Wikia is not accessible if you've made further modifications. Remove the custom ad blocker rule(s) and the page will load as expected.