Jozefa Karczewska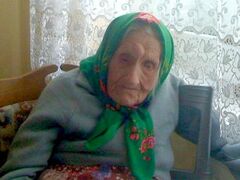 Pending
Jozefa Karczewska [Polish: Józefa Karczewska] (23 November 1902 – 18 January 2013) was a Polish supercentenarian and the oldest recognized living person in Poland since the passing of 110 year old Marianna Misiewicz on 28 June 2012 until her own death on 18 January 2013 at age 110 years, 56 days.
Biography
Jozefa Karczewska was born in the area of present-day Lodz Voivodeship, administered by the Russian Empire. She married and lived in the village of Bednary Kolonia. She is the oldest person ever in the history of Lodz Voivodeship.[1][2]
References
Ad blocker interference detected!
Wikia is a free-to-use site that makes money from advertising. We have a modified experience for viewers using ad blockers

Wikia is not accessible if you've made further modifications. Remove the custom ad blocker rule(s) and the page will load as expected.