'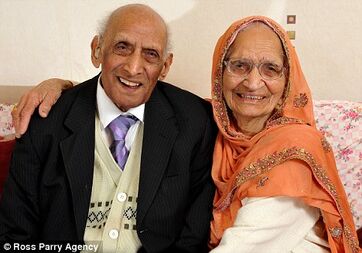 '
Karam Chand
(10 November 1905? - 27 September 2016) was an Indian
supercentenarian
claimant living in the United Kingdom. He was 
allegedly
married to his wife, 
Kartari Chand
(born 1 November 1912), from 11 December 1925 until his death on 27 September 2016, which would mean a marriage that lasted 90 years, 291 days. They were claimants to being the world's longest married couple. However, neither birth records nor a marriage record have been produced to support the claim, and because the marriage was a "child marriage", as Kartari was 13, it is not strictly comparable to the "Western" concept of two "adults" marrying.
References
Ad blocker interference detected!
Wikia is a free-to-use site that makes money from advertising. We have a modified experience for viewers using ad blockers

Wikia is not accessible if you've made further modifications. Remove the custom ad blocker rule(s) and the page will load as expected.