Karin Schwallbach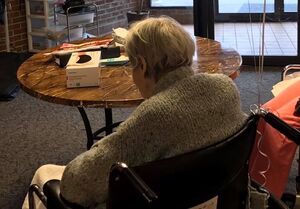 Karin Schwallbach on her 110th birthday.
Unvalidated
Karin Annette Antonie Schwallbach
(née
Niggol
) (28 February 1907 – 2017) was a Russian-American supercentenarian whose claim is currently unvalidated by the
Gerontology Research Group
(GRG). She was one of the oldest known people living in Michigan, USA.
Biography
Karin Schwallbach was born Karin Niggol in St. Petersburg, Russia on 28 February 1907 to Estonian parents Friedrich E. L. Niggol and Aurelie C. E. (née Eichfuss) Niggol. She had three siblings called Nora, Sigrid, and Alice. At the time of her birth, St. Petersburg was part of the Russian Empire.
On 10 May 1928, she married Albert Schwallbach whilst living in Estonia. The couple spent some time in Germany and Michigan, but they divorced on 25 September 1935. Karin and Albert had one child. After the couple divorced, Karin settled in the US, in places such as Wisconsin and New Mexico. She later moved to Warren, Michigan, USA. Karin's father Friedrich died in 1947.
Karin Schwallbach died in 2017 in Warren, Michigan, USA, at the age of 110.
References