Kiku Morita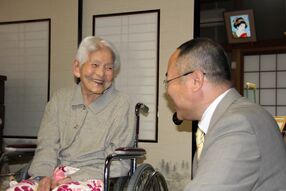 Unvalidated
Kiku Morita [Japanese: 森田きく] (born 20 October 1905) is a Japanese supercentenarian who is currently unverified.
Kiku lives in Amino-cho-kizu (Kyotango), Kyoto Prefecture, Japan. In October 2014, she was visited by Kyotango's Mayor, Yasushi Nakayama. She lives at home with her eldest son, Masashi, and son's wife Kiyoko.
References
Ad blocker interference detected!
Wikia is a free-to-use site that makes money from advertising. We have a modified experience for viewers using ad blockers

Wikia is not accessible if you've made further modifications. Remove the custom ad blocker rule(s) and the page will load as expected.