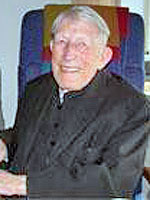 Konrad Fuchs (15 October 1897 - 13 November 2006) was a German centenarian. He was, at the time of his death, the oldest living Catholic priest in Europe at 109 years and 29 days old, Germany's 2nd oldest man behind Robert Meier, and one of the last German First World War veterans.
References
Ad blocker interference detected!
Wikia is a free-to-use site that makes money from advertising. We have a modified experience for viewers using ad blockers

Wikia is not accessible if you've made further modifications. Remove the custom ad blocker rule(s) and the page will load as expected.