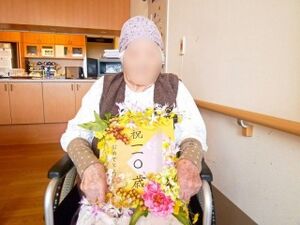 Kotsui Tamura (born May 1907) is a Japanese supercentenarian whose age is currently unvalidated by the Gerontology Research Group (GRG). She is the oldest known living person in Kagawa prefecture, Japan.
Biography
Kotsui Tamura was born on an unreported date in May 1907 in Japan. She became the oldest known person in Kagawa prefecture aged 109 upon the death of 110-year-old Tame Aga on 31 December 2016. On her 110th birthday in May 2017, her secret to longevity was reported to be "to eat a lot", so she was given some birthday cake.
Kotsui Tamura currently lives in Takamatsu, Kagawa prefecture, Japan, aged between 110 years, 79 days and 110 years, 109 days.
References
Ad blocker interference detected!
Wikia is a free-to-use site that makes money from advertising. We have a modified experience for viewers using ad blockers

Wikia is not accessible if you've made further modifications. Remove the custom ad blocker rule(s) and the page will load as expected.