Laura Hoejgaard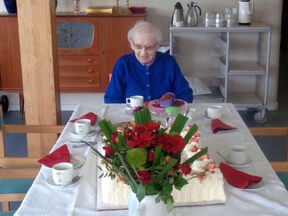 Laura Hoejgaard at her 104th birthday.
Centenarian
Laura Hoejgaard (Faroese: Laura Højgaard) (2 July 1912 – 13 January 2018) was a Faroese centenarian who was the oldest living person on the Faroe Islands since the death of Theodor Thomassen on 9 March 2016.
Biography
Laura Hoejgaard was born on 2 July 1912 to parents Hanus Hoejgaard and Louisa Hoejgaard. She was born and raised in Havn (Torshavn).
She died at Lagargardur, on 13 January 2018 at the age of 105 years, 193 days.
References