Leticia Ferreira de Souza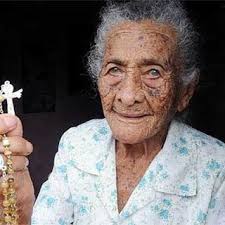 Letícia Ferreira de Souza.
Unvalidated
Leticia Ferreira de Souza (30 December 1900 – 2 January 2011) was an unvalidated Brazilian supercentenarian.
Biography
Leticia was born in the district of Terra Branca, municipality of Bocaiuva, Minas Gerais. She was the second daughter of a family of 12 children (nine women and three men). She worked in the fields and was also embroiderer and seamstress, Did crochet and lace work. He never married and always dedicated himself to religious life.
In celebration of the 110th anniversary of Leticia, a Mass was celebrated in Thanksgiving by the Archbishop emeritus of Montes Claros, gift Geraldo Majela de Castro, a day after that date, on 31 December 2010.
She died on 2 January 2011 at the age of 110 years, 3 days, while she was hospitalized at Bocaiuva Municipal Hospital in her hometown.
References