This is a list of supercentenarians born in 1874. As of 21 May 2018, 12 of them have been verified by the GRG.
One case is currently pending as of January 2015, which means that there is sufficient evidence to support the claim, but the verification process has not yet been completed.
There are three additional cases on the list for which research has been made, but whose claimed age has not yet been reviewed and processed by the GRG. This category is referred to as "unverified".
Cohort extinction took place on 6 November 1987 when Caroline Mockridge of Australia passed away at the age of 112 years, 330 days.
List
      Validated       Pending       Unvalidated
| Rank | Name | Sex | Birth | Death | Age | Country |
| --- | --- | --- | --- | --- | --- | --- |
| 1 | Caroline Mockridge | F | 11 Dec 1874 | 6 Nov 1987 | 112 years, 330 days | AUS |
| 2 | Eugenie Roux | F | 24 Jan 1874 | 20 Jun 1986 | 112 years, 147 days | FRA |
| | Martha Rein | F | 17 Aug 1874 | 6 Jan 1987 | 112 years, 142 days | GERUSA |
| 3 | Estella Foster | F | 25 Oct 1874 | 5 Mar 1986 | 111 years, 131 days | USA |
| 4 | Wilhelmine Sande | F | 24 Oct 1874 | 21 Jan 1986 | 111 years, 89 days | NORSWE |
| | Emma Bingham | F | 1 Nov 1874 | 25 Nov 1985 | 111 years, 24 days | CAN |
| 5 | Bessie Bettencourt | F | 12 Feb 1874 | 14 Jan 1985 | 110 years, 337 days | USA |
| | America Delaney | F | 12 Dec 1874 | 6 Sep 1985 | 110 years, 268 days | USA |
| 6 | Louise Bruss | F | 30 May 1874 | 11 Feb 1985 | 110 years, 257 days | USA |
| 7 | Matilda Elsbury | F | 28 Sep 1874 | 30 Apr 1985 | 110 years, 214 days | UK |
| 8 | Bertha Wallin | F | 13 Jan 1874 | 5 Aug 1984 | 110 years, 205 days | DENUSA |
| 9 | Bertha Webber | F | 24 Oct 1874 | 11 Feb 1985 | 110 years, 110 days | USA |
| 10 | Sadie King | F | 31 Jan 1874 | 20 Apr 1984 | 110 years, 80 days | USA |
| 11 | Frederika van Asselt-Benkemper | F | 16 Nov 1874 | 27 Dec 1984 | 110 years, 41 days | NED |
| 12 | Momu Okuma | F | 12 Jan 1874 | 10 Feb 1984 | 110 years, 29 days | JPN |
Graph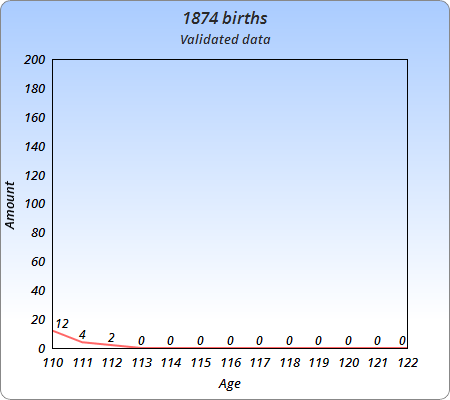 References