This is a list of supercentenarians born in 1878. As of 10 March 2018, 29 of them have been verified by the GRG.
2 people are currently pending as of February 2015, which means that there is sufficient evidence to support the claims, but the verification process has not yet been completed.
There are 10 additional cases on the list for which research has been made, but whose claims have not yet been reviewed and processed by the GRG. This category is referred to as "unverified".
Cohort extinction took place on 7 May 1994 when Margaret Skeete of United States passed away at the age of 115 years, 192 days.
List
      Validated       Pending       Unvalidated
| Rank | Name | Sex | Birth | Death | Age | Country |
| --- | --- | --- | --- | --- | --- | --- |
| 1 | Margaret Skeete | F | 27 Oct 1878 | 7 May 1994 | 115 years, 192 days | USA |
| 2 | Odie Matthews | F | 28 Dec 1878 | 14 Apr 1993 | 114 years, 107 days | USA |
| 3 | Waka Shirahama | F | 23 Mar 1878 | 16 Jun 1992 | 114 years, 85 days | JPN |
| 4 | Alice Sjoquist | F | 25 Oct 1878 | 7 Nov 1991 | 113 years, 13 days | UK CAN |
| 5 | Josephine Choquet | F | 6 Jun 1878 | 14 Feb 1991 | 112 years, 253 days | FRA |
| | Rin Aoyagi | F | 5 Oct 1878 | 14 May 1991 | 112 years, 221 days | JPN |
| | Carrie King | F | 26 Oct 1878 | 1 Jan 1991 | 112 years, 67 days | USA |
| 6 | Claire Dunning | F | 20 Aug 1878 | 27 Sep 1990 | 112 years, 38 days | USA |
| 7 | Mary Fewster | F | 6 Feb 1878 | 26 Dec 1989 | 111 years, 323 days | UK |
| 8 | Rose Hart | F | 20 Mar 1878 | 5 Jan 1990 | 111 years, 291 days | UK |
| 9 | Jan Machiel Reyskens | M | 11 May 1878 | 7 Jan 1990 | 111 years, 241 days | BELNED |
| | Florence Tabbert | F | 25 Dec 1878 | 14 Mar 1990 | 111 years, 79 days | USA |
| 10 | Julia Lyng | F | 22 Dec 1878 | 26 Feb 1990 | 111 years, 66 days | NORUSA |
| 11 | Nellie Thompson | F | 21 Oct 1878 | 27 Nov 1989 | 111 years, 37 days | CAN |
| 12 | Emmie Fulmer | F | 21 Nov 1878 | 21 Dec 1988 | 111 years, 30 days | USA |
| 13 | Cruz Garcia | F | 14 Sep 1878 | 14 Oct 1989 | 111 years, 29 days | USA |
| 14 | Grace-Lillian Schaeffner | F | 28 Nov 1878 | 26 Dec 1989 | 111 years, 28 days | CANUSA |
| 15 | Fanny Nystrom | F | 30 Sep 1878 | 31 Aug 1989 | 110 years, 335 days | FIN |
| 16 | Julia Savage | F | 11 Sep 1878 | 7 Aug 1989 | 110 years, 330 days | USA |
| 17 | Grace Cottrell | F | 1 Apr 1878 | 10 Jan 1989 | 110 years, 284 days | USA |
| | Charlotte Allen | F | 6 Feb 1878 | 23 Oct 1988 | 110 years, 260 days | USA |
| 18 | Modena McCown | F | 22 Sep 1878 | 8 Jun 1989 | 110 years, 259 days | USA |
| 19 | Aurelio Diaz | M | 16 Oct 1878 | 13 Jun 1989 | 110 years, 240 days | ESP |
| 20 | Alton Gilbert | M | 11 Jun 1878 | 21 Jan 1989 | 110 years, 224 days | USA |
| | William McDaniel | M | 20 May 1878 | 20 Dec 1988 | 110 years, 214 days | USA |
| 21 | Maria Corba | F | 15 Aug 1878 | 8 Mar 1989 | 110 years, 205 days | ROUGER |
| 22 | Mary Bruneau | F | 29 Mar 1878 | 17 Oct 1988 | 110 years, 202 days | USA |
| | Anna Lanham | F | 19 Jul 1878 | 2 Feb 1989 | 110 years, 189 days | USA |
| | Elinor Miller | F | 5 Nov 1878 | 8 May 1989 | 110 years, 184 days | USA |
| | Ada Harris | F | 14 Feb 1878 | 6 Aug 1988 | 110 years, 174 days | USA |
| 23 | Alina Morton | F | 10 Nov 1878 | 20 Apr 1989 | 110 years, 161 days | CAN |
| 24 | Ellen Green | F | 19 Jul 1878 | 4 Dec 1988 | 110 years, 138 days | UK CAN |
| | Mary Lundahl | F | 20 Dec 1878 | 25 Mar 1989 | 110 years, 95 days | USA |
| | Belle Rohr | F | 17 Aug 1878 | 14 Nov 1988 | 110 years, 89 days | USA |
| | Ida Reaver | F | 7 Dec 1878 | 2 Mar 1989 | 110 years, 85 days | USA |
| 25 | Minnie Livingston | F | 8 Aug 1878 | 24 Oct 1988 | 110 years, 77 days | USA |
| 26 | Lillie Cote | F | 16 May 1878 | 24 Jul 1988 | 110 years, 69 days | USA |
| 27 | Kristiana Ullaland | F | 2 Dec 1878 | 26 Jan 1989 | 110 years, 55 days | NOR |
| 28 | Gertrude Phillipson | F | 22 Mar 1878 | 7 May 1988 | 110 years, 46 days | UK |
| 29 | Laura Rollock | F | 16 Nov 1878 | 29 Dec 1988 | 110 years, 43 days | CAN |
| | Mary Slama | F | 2 Sep 1878 | 23 Sep 1988 | 110 years, 21 days | USA |
Graph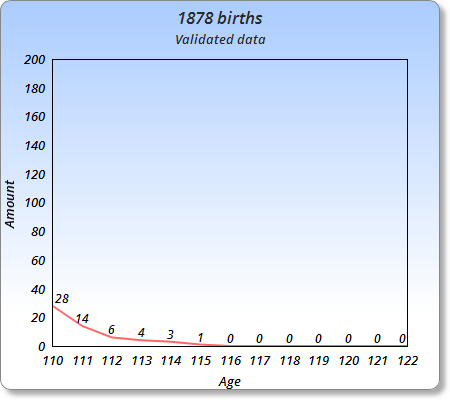 References