This is a list of supercentenarians born in 1881. As of 21 May 2018, 35 of them have been verified by the GRG.
Three people are currently pending as of February 2015, which means that there is sufficient evidence to support the claims, but the verification process has not yet been completed.
There are 13 additional cases on the list for which research has been made, but whose claims have not yet been reviewed and processed by the GRG. This category is referred to as "unverified".
Cohort extinction took place on 25 April 1996 when Mary Bidwell of the United States passed away at the age of 114 years, 352 days.
List
      Validated       Pending       Unvalidated
| Rank | Name | Sex | Birth | Death | Age | Country |
| --- | --- | --- | --- | --- | --- | --- |
| 1 | Mary Bidwell | F | 9 May 1881 | 25 Apr 1996 | 114 years, 352 days | USA |
| 2 | Maria Antonia Castro | F | 10 June 1881 | 16 Jan 1996 | 114 years, 220 days | ESP |
| 3 | Irene Frank | F | 1 Oct 1881 | 28 Feb 1996 | 114 years, 150 days | USA |
| | Mary Sorenson | F | 26 Nov 1881 | 27 July 1995 | 113 years, 243 days | USA |
| 4 | Gertrude Croker | F | 12 July 1881 | 26 Nov 1994 | 113 years, 137 days | USA |
| 5 | Daisy Sanders | F | 28 Nov 1881 | 10 Dec 1994 | 113 years, 12 days | USA |
| 6 | Pauline Chabanny | F | 20 Aug 1881 | 13 Aug 1994 | 112 years, 358 days | FRA |
| 7 | Rebecca Hewison | F | 19 Oct 1881 | 22 Sept 1994 | 112 years, 338 days | UK |
| | Wilhelmina Pier | F | 6 Oct 1881 | 12 June 1994 | 112 years, 249 days | USA |
| 8 | Josep Armengol-Jover | M | 23 July 1881 | 20 Jan 1994 | 112 years, 181 days | ESP |
| 9 | Mary Penamon | F | 18 Oct 1881 | 18 Feb 1994 | 112 years, 123 days | USA |
| 10 | Amy Harris | F | 6 Nov 1881 | 26 Jan 1994 | 112 years, 81 days | USA |
| 11 | Felicite Jandia | F | 12 Feb 1881 | 7 Dec 1992 | 111 years, 299 days | GLP,FRA |
| | Edith Bruckner | F | 18 June 1881 | 18 Feb 1993 | 111 years, 245 days | USA |
| 12 | Nelle Eby | F | 17 May 1881 | 13 Jan 1993 | 111 years, 241 days | USA |
| 13 | James Zackry | M | 15 Aug 1881 | 14 Mar 1993 | 111 years, 211 days | USA |
| | Nellie van der Meulen | F | 15 Feb 1881 | 11 Sept 1992 | 111 years, 209 days | NEDUSA |
| 14 | Nina Rust | F | 18 June 1881 | 6 Jan 1993 | 111 years, 202 days | USA |
| 15 | Paula Baumgartner | F | 16 Aug 1881 | 24 Feb 1993 | 111 years, 192 days | GER |
| | Beatrice Pollock | F | 2 Mar 1881 | 30 July 1992 | 111 years, 150 days | AUS |
| 16 | George Ives | M | 17 Nov 1881 | 12 Apr 1993 | 111 years, 146 days | UK CAN |
| 17 | Kate Bottom | F | 4 Mar 1881 | 22 July 1992 | 111 years, 140 days | USA |
| | Mary Johnson | F | 2 Mar 1881 | 10 July 1992 | 111 years, 130 days | USA |
| 18 | Lucy Hoyle | F | 17 June 1881 | 27 Aug 1992 | 111 years, 71 days | USA |
| 19 | Henry Pfeiffer | M | 22 Mar 1881 | 23 May 1992 | 111 years, 62 days | USA |
| | Aaron Bazemore | M | 20 Feb 1881 | 10 Apr 1992 | 111 years, 50 days | USA |
| | Caroline Olson | F | 3 Aug 1881 | 14 Sept 1992 | 111 years, 42 days | USA |
| 20 | Maddalena Figone | F | 1 Mar 1881 | 6 Mar 1992 | 111 years, 5 days | ITA |
| 21 | Mabel Bennett | F | 6 Sept 1881 | 25 Aug 1992 | 110 years, 354 days | USA |
| 22 | Bessie Viar | F | 22 Mar 1881 | 16 Feb 1992 | 110 years, 331 days | USA |
| | Mabel Maloyan | F | 26 Dec 1881 | 15 Nov 1992 | 110 years, 325 days | TURUSA |
| | Bertha Davis | F | 22 Dec 1881 | 27 Sept 1992 | 110 years, 280 days | USA |
| 23 | Nellie Carlson | F | 12 Nov 1881 | 16 Aug 1992 | 110 years, 278 days | USA |
| 24 | Ethel Tuck | F | 16 Aug 1881 | 15 May 1992 | 110 years, 273 days | UK |
| 25 | Laura Livingston | F | 11 Apr 1881 | 4 Jan 1992 | 110 years, 268 days | USA |
| 26 | Effie Burress | F | 12 Apr 1881 | 19 Dec 1991 | 110 years, 251 days | USA |
| | Mabel Roads | F | 31 Dec 1881 | 29 Aug 1992 | 110 years, 242 days | USA |
| | Harriet Palmer | F | 4 July 1881 | 1 Mar 1992 | 110 years, 241 days | USA |
| 27 | Carrie Harrison | F | 9 May 1881 | 23 Dec 1991 | 110 years, 228 days | USA |
| 28 | Eva Bearce | F | 14 Mar 1881 | 12 Oct 1991 | 110 years, 212 days | USA |
| | Ada Rinn | F | 5 Feb 1881 | 30 Aug 1991 | 110 years, 206 days | ITA USA |
| | Daisy Jones | F | 10 Mar 1881 | 18 Aug 1991 | 110 years, 161 days | UK CAN |
| 29 | Martha Bailes | F | 1 Nov 1881 | 1 Apr 1992 | 110 years, 152 days | USA |
| 30 | Pia Paioncini | F | 14 June 1881 | 12 Nov 1991 | 110 years, 151 days | ITA |
| 31 | Florence Potts | F | 8 Nov 1881 | 2 Mar 1992 | 110 years, 115 days | USA |
| | Arthur Bates | M | 25 Oct 1881 | 19 Jan 1992 | 110 years, 86 days | UK NZL |
| 32 | Abby Milton | F | 6 Feb 1881 | 2 May 1991 | 110 years, 85 days | USA |
| 33 | Marie-Louise Antelme | F | 28 Dec 1881 | 19 Feb 1992 | 110 years, 53 days | FRA |
| 34 | Ida Smith | F | 15 Nov 1881 | 3 Jan 1992 | 110 years, 49 days | USA |
| 35 | Katherine Sartori | F | 18 Dec 1881 | 26 Jan 1992 | 110 years, 39 days | USA |
Graph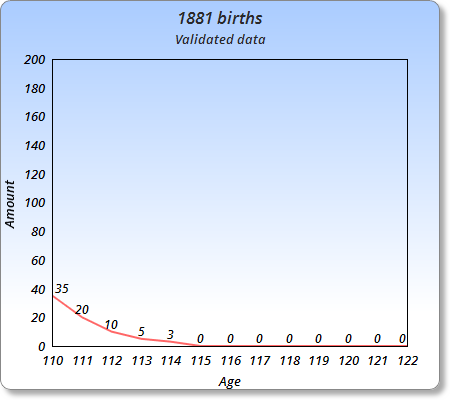 References