This is a list of supercentenarians born in 1884. As of 23 May 2018, 43 of them have been verified by the GRG. 5 people are currently pending as of January 2015, which means that there is sufficient evidence to support the claims, but the verification process has not yet been completed.
There are 7 additional cases for which research has been made, but whose claims have not yet been reviewed and processed by the GRG. This category is referred to as "unverified".
Cohort extinction took place on 20 November 1999 when Annie Jennings of the United Kingdom passed away at the age of 115 years, 8 days.
List
      Validated       Pending       Unvalidated
Rank
Name
Sex
Birth
Death
Age
Country
1
Annie Jennings
F
12 Nov 1884
20 Nov 1999
115 years, 8 days
UK
2
Tase Matsunaga
F
11 May 1884
18 Nov 1998
114 years, 191 days
JPN
3
Bettie Chatmon
F
30 Apr 1884
16 Aug 1998
114 years, 108 days
USA
4
Asa Takii
F
28 Apr 1884
31 Jul 1998
114 years, 94 days
JPN
5
Suekiku Miyanaga
F
7 Apr 1884
20 Jun 1998
114 years, 74 days
JPN
6
Johnson Parks
M
15 Oct 1884
17 Jul 1998
113 years, 275 days
USA
7
Amalia Barone
F
6 Oct 1884
26 Jun 1998
113 years, 263 days
ITA USA
8
Sue Utagawa
F
19 Jan 1884
4 May 1997
113 years, 105 days
JPN
Florence Kinberger
F
22 May 1884
4 Mar 1997
112 years, 286 days
USA
9
Luisa Sanchez
F
14 Feb 1884
5 Oct 1996
112 years, 234 days
USA
10
Elizabeth Fisher
F
15 Jan 1884
3 Aug 1996
112 years, 201 days
USA
11
Anna Brown
F
29 Sep 1884
5 Jan 1997
112 years, 98 days
USA
12
Gengan Tonaki
M
30 Oct 1884
24 Jan 1997
112 years, 86 days
JPN
13
Celestine Colombeau
F
17 Feb 1884
9 May 1996
112 years, 82 days
FRA
Pearl Peyton
F
4 Dec 1884
9 Jan 1997
112 years, 36 days
USA
Corinne Lambeth
F
19 Mar 1884
20 Apr 1996
112 years, 32 days
USA
14
Helen Haward
F
24 Nov 1884
23 Oct 1996
111 years, 334 days
UK
15
Zoe Verot
F
15 Feb 1884
4 Jan 1996
111 years, 323 days
FRA
Flossie Durgin
F
26 Jun 1884
24 Mar 1996
111 years, 272 days
CANUSA
16
Luther Goding
M
1 Jul 1884
5 Dec 1995
111 years, 157 days
USA
17
Nettie Johnson
F
22 Jan 1884
26 Jun 1995
111 years, 155 days
USA
18
Emile Fourcade
M
29 Jul 1884
29 Dec 1995
111 years, 153 days
ALGFRA
19
Edith Foster
F
3 Jul 1884
9 Nov 1995
111 years, 129 days
USA
20
Anne Matthiesen
F
26 Nov 1884
19 Mar 1996
111 years, 114 days
DEN
Mary Williams
F
21 Sep 1884
10 Oct 1995
111 years, 19 days
USA
John Quincy Post
M
7 Jun 1884
23 May 1996
110 years, 350 days
USA
21
Etta Parker
F
3 Nov 1884
25 Sep 1995
110 years, 326 days
USA
22
Helen Williams
F
29 Oct 1884
28 Aug 1995
110 years, 303 days
USA
23
Hattie Bowden
F
18 Feb 1884
24 Nov 1994
110 years, 279 days
USA
Bradshaw Sims
F
15 May 1884
18 Feb 1995
110 years, 279 days
USA
Ruby Wilson
F
22 Aug 1884
17 May 1995
110 years, 268 days
USA
25
Della Norwood
F
26 Oct 1884
8 Jul 1995
110 years, 255 days
USA
Kathryn Minogue
F
29 Jan 1884
30 Aug 1994
110 years, 213 days
USA
26
Ida Keen
F
1 Mar 1884
24 Sep 1994
110 years, 207 days
USA
27
Minnie King
F
21 Oct 1884
30 Apr 1995
110 years, 191 days
USA
28
Lena Sloat
F
21 May 1884
27 Nov 1994
110 years, 190 days
USA
Gypsy Petty
F
25 Mar 1884
28 Sep 1994
110 years, 187 days
USA
Cenia Moore
F
19 May 1884
15 Oct 1994
110 years, 149 days
USA
29
Elizabeth Page
F
22 Jul 1884
13 Dec 1994
110 years, 144 days
USA
Catherine Bean
F
3 Jun 1884
6 Oct 1994
110 years, 125 days
USA
30
Milda Ellis
F
10 Mar 1884
25 Jun 1994
110 years, 107 days
USA
31
Clara Kirchner
F
3 Oct 1884
9 Dec 1994
110 years, 67 days
USA
32
Marie-Therese Cau
F
9 Jan 1884
21 Feb 1994
110 years, 43 days
FRA
33
Nouria Hutin
F
12 Jul 1884
23 Aug 1994
110 years, 42 days
FRA
34
Mabel Wickens
F
15 Mar 1884
23 Apr 1994
110 years, 39 days
USA
Mabel Dehay
F
22 Aug 1884
30 Sep 1994
110 years, 39 days
USA
36
Emma Welz
F
16 Jun 1884
21 Jul 1994
110 years, 35 days
CAN
37
Sophie Dernoncourt
F
9 May 1884
7 Jun 1994
110 years, 29 days
FRA
Sonoe Yoshida
F
25 Mar 1884
22 Apr 1994
110 years, 28 days
JPN
38
Chester Pushie
M
24 Jun 1884
22 Jul 1994
110 years, 28 days
CAN
39
Ioanna Lambropoulos
F
8 May 1884
2 Jun 1994
110 years, 25 days
GREUSA
40
Ann Schrimshaw
F
13 Mar 1884
29 Mar 1994
110 years, 16 days
UK
41
Blanche Burch
F
3 Oct 1884
15 Oct 1994
110 years, 12 days
USA
42
Pablo Roy
M
15 Jan 1884
26 Jan 1994
110 years, 11 days
ESP
43
Maude Neidig
F
1 Aug 1884
3 Aug 1994
110 years, 2 days
USA
Graph
Needs an update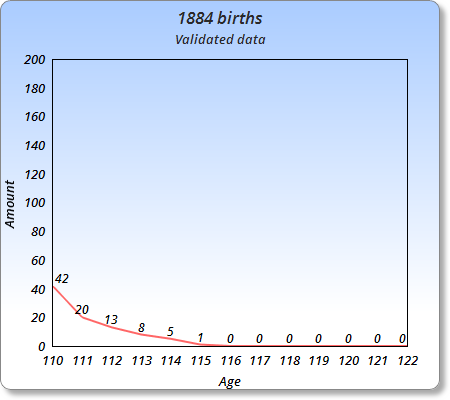 References