This is a list of supercentenarians born in 1886. As of 14 July 2018, 43 of them have been verified by the GRG. 5 people are currently pending as of February 2015, which means that there is sufficient evidence to support the claims, but the verification process has not yet been completed.
There are 9 additional cases for which research has been made, but whose claims have not yet been reviewed and processed by the GRG. This category is referred to as "unverified".
Cohort extinction took place on 6 June 2001 when Marie Bremont of France passed away at the age of 115 years, 42 days.
List
      Validated       Pending       Unvalidated
Rank
Name
Sex
Birth
Death
Age
Country
1
Marie Bremont
F
25 Apr 1886
6 June 2001
115 years, 42 days
FRA
2
Luce Maced
F
2 May 1886
25 Feb 2000
113 years, 299 days
GLP,FRA
MTQ,FRA
3
Frances Johns
F
3 Feb 1886
24 May 1999
113 years, 110 days
USA
4
Matsu Kayo
F
9 Jan 1886
13 Dec 1998
112 years, 338 days
JPN
5
Jeanne Dumaine
F
19 Mar 1886
3 Jan 1999
112 years, 290 days
FRA
6
Louisa Delfino
F
10 Dec 1886
29 June 1999
112 years, 201 days
ITA USA
7
Denzo Ishisaki
M
20 Oct 1886
29 Apr 1999
112 years, 191 days
JPN
8
Martelle Murphy
F
5 Jan 1886
6 June 1998
112 years, 152 days
USA
Mattie Raglon
F
6 Apr 1886
3 Sept 1998
112 years, 150 days
USA
9
Jeanne Colas
F
9 June 1886
15 Oct 1998
112 years, 128 days
FRA
10
Chiyo Kowada
F
16 Sept 1886
31 Dec 1998
112 years, 106 days
JPN
Suoma Korkee
F
30 May 1886
15 Aug 1998
112 years, 77 days
FINUSA
11
Julia Nutwell
F
30 July 1886
25 Sept 1998
112 years, 57 days
USA
12
Minerva Bedford
F
13 Sept 1886
4 Nov 1998
112 years, 52 days
USA
13
Marie-Helene Chanteperdrix
F
5 Mar 1886
9 Mar 1998
112 years, 4 days
FRA
14
Annie Price
F
12 Jan 1886
26 Dec 1997
111 years, 348 days
UK
Frank Morimitsu
M
26 Dec 1886
9 Dec 1998
111 years, 348 days
JPNUSA
Amy Holmes
F
10 Apr 1886
1 Mar 1998
111 years, 325 days
GERUSA
Elvira de Jesus Caldeira
F
27 July 1886
5 June 1998
111 years, 313 days
POR
15
Agnes Bechtoldt
F
28 May 1886
18 Jan 1998
111 years, 235 days
USA
Flora Van Artsdale
F
9 Jan 1886
12 Aug 1997
111 years, 215 days
USA
16
Lena McLachlan
F
13 Jan 1886
14 May 1997
111 years, 121 days
USA
17
Emma Duvoisin
F
5 July 1886
30 Sept 1997
111 years, 87 days
SUI
18
Maria Bigue
F
10 Sept 1886
12 Mar 1998
111 years, 183 days
FRA
19
Laura Svehaug
F
19 Nov 1886
6 Mar 1998
111 years, 107 days
NOR
20
Allie Wilkerson
F
7 Oct 1886
21 Oct 1997
111 years, 14 days
USA
21
Valentino Stella
M
2 Jan 1886
1 Jan 1997
110 years, 365 days
ITA
Leora Sparrow
F
16 Dec 1886
8 Dec 1997
110 years, 357 days
USA
22
Jeannette Johnson
F
7 Jan 1886
20 Dec 1996
110 years, 348 days
USA
Lillie Maud Carberry
F
15 Feb 1886
16 Jan 1997
110 years, 336 days
USA
23
Eleonora Casagrande
F
9 July 1886
6 June 1997
110 years, 332 days
ITA
24
Rosa Colicchia
F
30 Jan 1886
29 Nov 1996
110 years, 304 days
ITA USA
25
Mary O'Hern
F
11 Mar 1886
27 Dec 1996
110 years, 291 days
USA
26
M.C.M.G.
F
15 Feb 1886
6 Nov 1996
110 years, 265 days
ESP
27
Pauline Spyra
F
24 Apr 1886
11 Jan 1997
110 years, 262 days
GER
28
Gregorio Merino
M
24 Dec 1886
9 Sept 1997
110 years, 259 days
ESP
Olga Nyman
F
6 Apr 1886
15 Dec 1996
110 years, 253 days
SWECAN
29
Inez Wormer
F
27 Mar 1886
24 Nov 1996
110 years, 242 days
USA
30
Bessie Short
F
10 Sept 1886
2 May 1997
110 years, 234 days
USA
31
Florrie Cleverdon
F
17 Apr 1886
13 Nov 1996
110 years, 210 days
UK
32
Katie Sanderlin
F
18 May 1886
7 Nov 1996
110 years, 173 days
USA
33
Florence Beaumont
F
29 July 1886
4 Jan 1997
110 years, 159 days
UK
34
Fannie Miller
F
28 Sept 1886
28 Feb 1997
110 years, 153 days
USA
35
Lillie Redwine
F
13 July 1886
16 Nov 1996
110 years, 126 days
USA
Maria Rodriguez Matias
F
8 Aug 1886
1 Dec 1996
110 years, 115 days
ESP
36
Martha Buford
F
16 Oct 1886
28 Jan 1997
110 years, 104 days
USA
37
Mary Ellen Geaney
F
2 Jan 1886
5 Apr 1996
110 years, 94 days
IRL
Gertrude Gilham
F
14 July 1886
3 Oct 1996
110 years, 81 days
CAN
38
Pearl Roberts
F
7 Nov 1886
21 Jan 1997
110 years, 75 days
USA
39
Mary Strother
F
29 Aug 1886
1 Nov 1996
110 years, 64 days
USA
40
Maria Schmitz
F
27 Aug 1886
22 Oct 1996
110 years, 56 days
GER
41
Mary Annand
F
7 Sept 1886
28 Oct 1996
110 years, 51 days
USA
Pei Punson
F
20 Mar 1886
4 May 1996
110 years, 45 days
KORJPN
Frieda Shamlaty
F
3 Nov 1886
11 Dec 1996
110 years, 38 days
LBNUSA
Mathilda Frutiger
F
23 Jan 1886
19 Feb 1996
110 years, 27 days
CANUSA
42
Seki Kitamura
F
23 Nov 1886
19 Dec 1996
110 years, 26 days
JPN
43
Ardra King
M
6 Apr 1886
23 Apr 1996
110 years, 17 days
USA
Bonnie Raynaud
F
3 Mar 1886
4 Mar 1996
110 years, 1 day
USA
Graph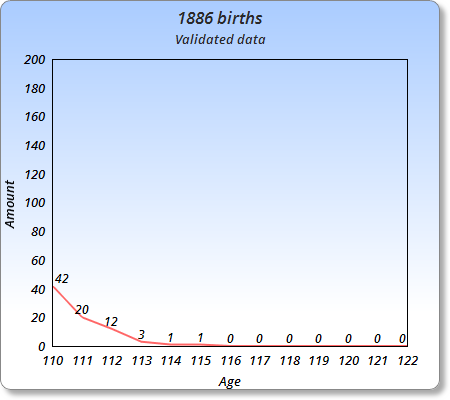 References