This is a list of supercentenarians born in 1890. As of 14 July 2018, 51 of them have been validated by the GRG. 5 people are currently pending as of February 2015, which means that there is sufficient evidence to support her claim, but the validation process has not yet been completed.
There are 10 additional cases on the list for which research has been made, but whose claimed age has not yet been reviewed and processed by the GRG. This category is referred to as "unvalidated".
Cohort extinction took place on 11 December 2006 when Elizabeth Bolden of United States passed away at the age of 116 years, 118 days.
List
      Validated (deceased)       Pending       Unvalidated
| Rank | Name | Sex | Birth | Death | Age | Country |
| --- | --- | --- | --- | --- | --- | --- |
| 1 | Elizabeth Bolden | F | 15 Aug 1890 | 11 Dec 2006 | 116 years, 118 days | USA |
| 2 | Bettie Wilson | F | 13 Sep 1890 | 13 Feb 2006 | 115 years, 153 days | USA |
| 3 | Susie Gibson | F | 31 Oct 1890 | 16 Feb 2006 | 115 years, 108 days | USA |
| 4 | Hendrikje van Andel-Schipper | F | 29 Jun 1890 | 30 Aug 2005 | 115 years, 62 days | NED |
| 5 | Maria do Couto Maia-Lopes | F | 24 Oct 1890 | 25 Jul 2005 | 114 years, 274 days | POR |
| 6 | Ura Koyama | F | 30 Aug 1890 | 5 Apr 2005 | 114 years, 218 days | JPN |
| 7 | Anne Primout | F | 5 Oct 1890 | 26 Mar 2005 | 114 years, 172 days | ALGFRA |
| 8 | Emma Verona Johnston | F | 6 Aug 1890 | 1 Dec 2004 | 114 years, 117 days | USA |
| 9 | Fred Hale | M | 1 Dec 1890 | 19 Nov 2004 | 113 years, 354 days | USA |
| 10 | Cleo Craig | F | 12 Feb 1890 | 28 Jun 2003 | 113 years, 136 days | USA |
| 11 | Mise Ito | F | 6 Nov 1890 | 18 Mar 2004 | 113 years, 133 days | JPN |
| 12 | Aurelia Marotta | F | 27 Jun 1890 | 4 Oct 2003 | 113 years, 99 days | USA |
| 13 | Mary Crombie | F | 6 Jul 1890 | 22 Sep 2003 | 113 years, 78 days | USA |
| 14 | Edna Taylor | F | 12 Jul 1890 | 10 Feb 2003 | 112 years, 213 days | USA |
| 15 | Joanna Deroover | F | 3 Jun 1890 | 6 Dec 2002 | 112 years, 186 days | BEL |
| 16 | Giovanni Frau | M | 29 Dec 1890 | 19 Jun 2003 | 112 years, 172 days | ITA |
| 17 | Susie Waller | F | 26 May 1890 | 4 Nov 2002 | 112 years, 162 days | USA |
| 18 | Jessie Hurley | F | 15 Jun 1890 | 6 Aug 2002 | 112 years, 52 days | AUS |
| | Iva Pressey | F | 31 Jan 1890 | 22 Feb 2002 | 112 years, 22 days | USA |
| 19 | Cleo Hinckley | F | 13 Oct 1890 | 30 Sep 2002 | 111 years, 352 days | USA |
| 20 | Theresa Bernstein-Meyerowitz | F | 1 Mar 1890 | 13 Feb 2002 | 111 years, 349 days | POLUSA |
| | Estella Belcher | F | 1 Jan 1890 | 7 Dec 2001 | 111 years, 340 days | USA |
| | Ladonia Wilson | F | 1 Oct 1890 | 29 Aug 2002 | 111 years, 313 days | USA |
| 21 | Pauline Sevaille | F | 20 Nov 1890 | 29 Aug 2002 | 111 years, 282 days | FRA |
| 22 | Gretchen Dettman | F | 14 Jan 1890 | 30 Sep 2001 | 111 years, 259 days | USA |
| | Darthular Garner | F | 3 Jul 1890 | 8 Mar 2002 | 111 years, 248 days | USA |
| 23 | E.E.A. | F | 18 Aug 1890 | 25 Mar 2002 | 111 years, 219 days | ESP |
| 24 | Evangeline Saulnier | F | 11 Sep 1890 | 19 Mar 2002 | 111 years, 189 days | CAN |
| | A. Janie Robinson | F | 14 Jun 1890 | 26 Nov 2001 | 111 years, 165 days | USA |
| | Mattie Ward | F | 14 Oct 1890 | 13 May 2002 | 111 years, 150 days | USA |
| | Anna Gillette | F | 5 Aug 1890 | 21 Nov 2001 | 111 years, 108 days | USA |
| | Mary Bagby | F | 20 Jul 1890 | 31 Oct 2001 | 111 years, 103 days | USA |
| 25 | Elvira Raimondi | F | 13 Feb 1890 | 25 May 2001 | 111 years, 101 days | ITA |
| 26 | Natalina Cresci | F | 25 Dec 1890 | 13 Mar 2002 | 111 years, 78 days | ITA USA |
| 27 | Soto Kitagawa | F | 23 Feb 1890 | 18 Mar 2001 | 111 years, 23 days | JPN |
| | Eileen Dinning | F | 10 May 1890 | 2 Jun 2001 | 111 years, 23 days | AUS |
| 28 | Stella Chesnut | F | 23 Feb 1890 | 7 Mar 2001 | 111 years, 12 days | USA |
| 29 | Gerritdina Schellevis-Slaghuis | F | 12 Dec 1890 | 13 Nov 2001 | 110 years, 336 days | NED |
| 30 | Iva Metcalf | F | 18 Mar 1890 | 30 Jan 2001 | 110 years, 318 days | USA |
| | Birdie Miller | F | 1 Oct 1890 | 11 Aug 2001 | 110 years, 314 days | USA |
| 31 | Francesca Lo Presti | F | 30 Apr 1890 | 5 Feb 2001 | 110 years, 281 days | ITA |
| | Frieda Juden | F | 7 May 1890 | 21 Jan 2001 | 110 years, 259 days | USA |
| 32 | Alexis Daigneau | M | 4 Aug 1890 | 3 Apr 2001 | 110 years, 242 days | FRA |
| 33 | Yoshi Ishii | F | 16 Jan 1890 | 31 Aug 2000 | 110 years, 228 days | JPN |
| | Mabel Richardson | F | 27 Jul 1890 | 2 Mar 2001 | 110 years, 218 days | UK USA |
| 34 | Daphne Brann | F | 4 Aug 1890 | 10 Mar 2001 | 110 years, 218 days | USA |
| | Leila Long | F | 5 Mar 1890 | 12 Sep 2000 | 110 years, 191 days | USA |
| 35 | Nao Ikeda | F | 7 Dec 1890 | 10 Jun 2001 | 110 years, 185 days | JPN |
| 36 | Hanae Sugiyama | F | 27 Jul 1890 | 11 Jan 2001 | 110 years, 168 days | JPN |
| 37 | Rin Fukaya | F | 19 Jan 1890 | 30 Jun 2000 | 110 years, 163 days | JPN |
| 38 | Maria Volmer | F | 8 Jun 1890 | 6 Nov 2000 | 110 years, 151 days | GER |
| 39 | N. Addie Rudolph | F | 25 Sep 1890 | 22 Jan 2001 | 110 years, 119 days | USA |
| 40 | Dai Uesada | F | 27 Sep 1890 | 9 Jan 2001 | 110 years, 104 days | JPN |
| 41 | Ethel Booth | F | 25 Dec 1890 | 18 Feb 2001 | 110 years, 55 days | NZL |
| | Jozsefne Szucs | F | 23 Oct 1890 | 17 Dec 2000 | 110 years, 55 days | HUN |
| 42 | Lenna Currie | F | 30 Mar 1890 | 23 May 2000 | 110 years, 54 days | USA |
| | Edith Hammond | F | 3 Oct 1890 | 20 Nov 2000 | 110 years, 48 days | USA |
| 43 | Agnes Tittel | F | 26 Jan 1890 | 3 Mar 2000 | 110 years, 37 days | USA |
| 44 | Nettie Luster | F | 28 Feb 1890 | 31 Mar 2000 | 110 years, 32 days | USA |
| 45 | Jeanne Samson | F | 5 Nov 1890 | 4 Dec 2000 | 110 years, 29 days | FRA |
| 46 | Adeline Soboul | F | 8 Feb 1890 | 6 Mar 2000 | 110 years, 27 days | FRA |
| 47 | Cassie Crittenden | F | 10 Sep 1890 | 3 Oct 2000 | 110 years, 23 days | USA |
| 48 | Bertha Knezacek | F | 5 Dec 1890 | 28 Dec 2000 | 110 years, 23 days | USA |
| 49 | Gerda Morton | F | 11 Jan 1890 | 29 Jan 2000 | 110 years, 18 days | SWEUSA |
| 50 | Rose McDonald | F | 5 Sep 1890 | 16 Sep 2000 | 110 years, 11 days | CAN |
| 51 | Mathilde Bonzo-Wrede | F | 29 May 1890 | 8 Jun 2000 | 110 years, 10 days | GERSUI |
Graph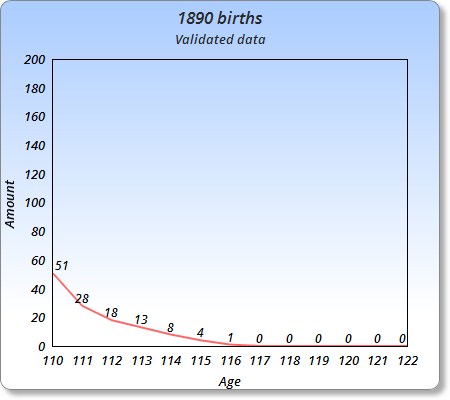 References