This is a list of supercentenarians born in 1891. As of 24 February 2018, 53 of them have been verified by the GRG. 6 people are currently pending as of January 2015, which means that there is sufficient evidence to support her claim, but the verification process has not yet been completed.
There are 8 additional cases for which research has been made, but whose claimed age has not yet been reviewed and processed by the GRG. This category is referred to as "unverified". Unverified claims to 115+ may be found at longevity claims.
Cohort extinction took place on 24 January 2007 when Emiliano Mercado del Toro of Puerto Rico passed away at the age of 115 years, 156 days.
List
      Validated       Pending       Unvalidated
| Rank | Name | Sex | Birth | Death | Age | Country |
| --- | --- | --- | --- | --- | --- | --- |
| 1 | Emiliano Mercado del Toro | M | 21 Aug 1891 | 24 Jan 2007 | 115 years, 156 days | PRI,USA |
| 2 | Julie Winnefred Bertrand | F | 16 Sept 1891 | 18 Jan 2007 | 115 years, 124 days | CAN |
| 3 | Grace Thaxton | F | 18 June 1891 | 6 July 2005 | 114 years, 18 days | USA |
| 4 | Virginia Dighero-Zolezzi | F | 24 Dec 1891 | 28 Dec 2005 | 114 years, 4 days | ITA |
| | Ida Shelvin Williams | F | 10 June 1891 | 26 Mar 2005 | 113 years, 288 days | USA |
| 5 | Anne Samson | F | 27 Feb 1891 | 29 Nov 2004 | 113 years, 276 days | CAN |
| 6 | Catarina Carreiro | F | 9 Jan 1891 | 13 Feb 2004 | 113 years, 35 days | POR |
| 7 | Yvonne Bory | F | 14 Mar 1891 | 7 Aug 2003 | 112 years, 146 days | FRA |
| 8 | Sawayo Tanaka | F | 9 June 1891 | 1 Nov 2003 | 112 years, 145 days | JPN |
| 9 | Gladys Hawley | F | 18 Dec 1891 | 28 Apr 2004 | 112 years, 132 days | UK |
| | Ida Simon | F | 4 Apr 1891 | 27 Jun 2003 | 112 years, 84 days | USA |
| 10 | Tadanosuke Hashimoto | M | 27 Apr 1891 | 31 May 2003 | 112 years, 34 days | JPN |
| 11 | Kumekichi Tani | M | 20 Apr 1891 | 12 May 2003 | 112 years, 22 days | JPN |
| | Ella Carpenter | F | 19 Sept 1891 | 7 Sept 2003 | 111 years, 353 days | USA |
| 12 | Christine Hall | F | 3 Dec 1891 | 20 Oct 2003 | 111 years, 321 days | USA |
| 13 | Anna Peskey | F | 5 Aug 1891 | 14 May 2003 | 111 years, 282 days | USA |
| 14 | Emma Taylor | F | 15 Sept 1891 | 24 June 2003 | 111 years, 282 days | USA |
| 15 | Magdalene Regener | F | 5 Mar 1891 | 19 Nov 2002 | 111 years, 259 days | GER |
| 16 | Tsuru Misawa | F | 11 Jan 1891 | 21 Sept 2002 | 111 years, 253 days | JPN |
| 17 | Ann Smith | F | 2 Mar 1891 | 29 Oct 2002 | 111 years, 241 days | USA |
| | Cecelia Kelly | F | 13 Feb 1891 | 4 Aug 2002 | 111 years, 172 days | USA |
| 18 | Jan Pieter Bos | M | 12 July 1891 | 15 Dec 2002 | 111 years, 156 days | NED |
| 19 | Jack Lockett | M | 22 Jan 1891 | 25 May 2002 | 111 years, 123 days | AUS |
| 20 | Eulalia Hernandez | F | 28 July 1891 | 16 Nov 2002 | 111 years, 111 days | ESP |
| 21 | Elsie Golcher | F | 29 Nov 1891 | 2 Mar 2003 | 111 years, 93 days | USA |
| 22 | Elizabeth Brown | F | 11 Oct 1891 | 3 Jan 2003 | 111 years, 84 days | USA |
| 23 | Berta Lindemann | F | 11 Mar 1891 | 29 May 2002 | 111 years, 79 days | GER |
| 24 | Alma Tresselt | F | 1 Nov 1891 | 22 Dec 2002 | 111 years, 51 days | USA |
| | Ollie Williams | F | 7 Apr 1891 | 27 May 2002 | 111 years, 50 days | USA |
| 25 | Kama Nakasone | M | 23 Nov 1891 | 1 Jan 2003 | 111 years, 39 days | JPN |
| | Norma Pratt | F | 15 Apr 1891 | 11 May 2002 | 111 years, 26 days | CANUSA |
| 26 | Cora Rousseaux | F | 18 Feb 1891 | 13 Feb 2002 | 110 years, 360 days | USA |
| 27 | Marguerite Bellion | F | 12 Feb 1891 | 29 Jan 2002 | 110 years, 351 days | FRA |
| | Andrejs Kruklins | M | 10 Jan 1891 | 30 Nov 2001 | 110 years, 325 days | LAT |
| 28 | Komitsu Yano | F | 4 Nov 1891 | 14 Sept 2002 | 110 years, 314 days | JPN |
| 29 | Leopold Vietoris | M | 4 June 1891 | 9 Apr 2002 | 110 years, 309 days | AUT |
| 30 | U.H.R. | F | 19 June 1891 | 21 Apr 2002 | 110 years, 306 days | ESP |
| 31 | Shizuno Iwasaki | F | 1 Feb 1891 | 3 Dec 2001 | 110 years, 305 days | JPN |
| 32 | Catherine Kral | F | 15 Nov 1891 | 19 Aug 2002 | 110 years, 277 days | USA |
| 33 | Jenny Karlsson | F | 17 Oct 1891 | 13 July 2002 | 110 years, 269 days | SWE |
| 34 | Tsuru Takenaka | F | 18 May 1891 | 6 Feb 2002 | 110 years, 264 days | JPN |
| 35 | Della Pope | F | 9 Mar 1891 | 17 Nov 2001 | 110 years, 253 days | USA |
| 36 | Mary Whidby | F | 27 July 1891 | 21 Mar 2002 | 110 years, 237 days | USA |
| | Lily Wilkinson | F | 8 Feb 1891 | 27 Sept 2001 | 110 years, 231 days | USA |
| | Jeannette Kennedy | F | 6 Jan 1891 | 16 Aug 2001 | 110 years, 222 days | USA |
| 37 | Kame Nagayama | F | 21 Sept 1891 | 9 Apr 2002 | 110 years, 200 days | JPN |
| 38 | Maria Broccolo | F | 6 July 1891 | 4 Jan 2002 | 110 years, 182 days | ITA |
| 39 | Anne Olsen | F | 23 June 1891 | 16 Dec 2001 | 110 years, 176 days | USA |
| 40 | Katherine Sloan | F | 5 May 1891 | 21 Oct 2001 | 110 years, 169 days | USA |
| | Mary Grant | F | 22 Nov 1891 | 2 Apr 2002 | 110 years, 131 days | USA |
| 41 | Hanna Eriksson | F | 26 Feb 1891 | 26 June 2001 | 110 years, 120 days | SWE |
| 42 | Margaret Stamper | F | 5 Apr 1891 | 31 July 2001 | 110 years, 117 days | UK |
| 43 | Alfredo Raneri | M | 8 Dec 1891 | 1 Apr 2002 | 110 years, 114 days | ITA |
| | Fannie Walling | F | 16 Feb 1891 | 1 June 2001 | 110 years, 105 days | USA |
| | Nola Cook | F | 23 June 1891 | 13 Sept 2001 | 110 years, 82 days | USA |
| 44 | Anna Rice | F | 15 Dec 1891 | 5 Mar 2002 | 110 years, 80 days | USA |
| 45 | Ruth Keene | F | 13 Sept 1891 | 1 Dec 2001 | 110 years, 79 days | USA |
| | Bertha Mumma | F | 31 Aug 1891 | 17 Nov 2001 | 110 years, 78 days | USA |
| 46 | Kazuichi Shono | M | 4 July 1891 | 28 Aug 2001 | 110 years, 55 days | JPN |
| 47 | Olive Leithauser | F | 20 Sept 1891 | 13 Nov 2001 | 110 years, 54 days | USA |
| 48 | Anna Maria Zanchi | F | 19 Nov 1891 | 9 Jan 2002 | 110 years, 51 days | ITA |
| 49 | Catterina Ghigliazza | F | 28 Nov 1891 | 6 Jan 2002 | 110 years, 39 days | ITA |
| 50 | Anna Farmer | F | 30 Sept 1891 | 8 Nov 2001 | 110 years, 39 days | USA |
| 51 | Donata Breggia | F | 29 Dec 1891 | 28 Jan 2002 | 110 years, 30 days | ITA USA |
| | Emma Gurley | F | 23 Dec 1891 | 19 Jan 2001 | 110 years, 27 days | USA |
| 52 | Anna Silverdahl | F | 30 Apr 1891 | 24 May 2001 | 110 years, 24 days | SWEUSA |
| 53 | Flossie Bundy | F | 7 Jan 1891 | 12 Jan 2001 | 110 years, 5 days | USA |
| | Henrietta Bruce | F | 18 July 1891 | 21 July 2001 | 110 years, 3 days | BRBUSA |
Graph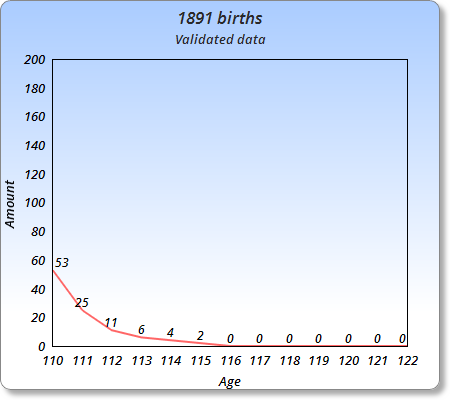 References