This is a list of supercentenarians born in 1897. As of 13 March 2018, 86 of them have been verified by GRG.
7 people are pending as of February 2015, which means that there is sufficient evidence to support the claims, but the verification process has not yet been completed.
Cohort extinction took place on 12 June 2013 when Jiroemon Kimura of Japan passed away at the age of 116 years, 54 days.
List
      Validated       Pending       Unvalidated
Rank
Name
Sex
Birth
Death
Age
Country
1
Jiroemon Kimura
M
19 Apr 1897
12 Jun 2013
116 years, 54 days
JPN
2
Dina Manfredini
F
4 Apr 1897
17 Dec 2012
115 years, 257 days
ITA USA
3
Koto Okubo
F
24 Dec 1897
12 Jan 2013
115 years, 19 days
JPN
4
Delma Kollar
F
31 Oct 1897
24 Jan 2012
114 years, 85 days
USA
5
Shige Hirooka
F
16 Jan 1897
29 Mar 2011
114 years, 72 days
JPN
6
Mississippi Winn
F
31 Mar 1897
14 Jan 2011
113 years, 289 days
USA
7
Ella Schuler
F
5 Sep 1897
7 May 2011
113 years, 244 days
USA
8
Frances Street
F
28 Mar 1897
24 Aug 2010
113 years, 149 days
USA
9
Komiya Miyazaki
F
20 Aug 1897
4 Jan 2011
113 years, 137 days
JPN
10
Rosa Rein
F
24 Mar 1897
14 Feb 2010
112 years, 327 days
POLSUI
11
Chikao Beppu
F
28 Mar 1897
17 Feb 2010
112 years, 326 days
JPN
12
Florence Poe
F
24 Aug 1897
21 Mar 2010
112 years, 209 days
USA
13
Hattie Lafayette
F
30 Mar 1897
10 Sep 2009
112 years, 164 days
USA
14
Annie Butler
F
4 June 1897
28 Sep 2009
112 years, 116 days
UK
15
Beatrice Cooper
F
3 Feb 1897
4 May 2009
112 years, 90 days
USA
16
Mary Gentry
F
4 Sep 1897
6 Oct 2009
112 years, 32 days
USA
17
Grietje Jansen-Anker
F
12 Sep 1897
13 Oct 2009
112 years, 31 days
NED
18
Olympe Pidancet
F
24 Jan 1897
19 Feb 2009
112 years, 26 days
FRA
19
Lake Dickson
F
19 Jan 1897
30 Jan 2009
112 years, 11 days
USA
20
Tsuji Takano
F
7 June 1897
17 Jun 2009
112 years, 10 days
JPN
21
Ruth Lincoln
F
30 Sep 1897
17 Sep 2009
111 years, 352 days
USA
22
Ethel Johnson
F
28 Sep 1897
29 Jul 2009
111 years, 304 days
USA
23
Myrtle Jones
F
18 Apr 1897
12 Jan 2009
111 years, 269 days
AUS
24
Maria-Elisa Moro
F
11 Feb 1897
2 Nov 2008
111 years, 265 days
ITA
25
Maria Pogonowska
F
30 Oct 1897
15 Jul 2009
111 years, 258 days
POL ISR
26
Carolina Peretti
F
21 Oct 1897
15 Jun 2009
111 years, 237 days
ITA
27
Pearl Hampton
F
14 Oct 1897
15 May 2009
111 years, 213 days
USA
28
Kiyoshi Igarashi
M
2 Aug 1897
23 Feb 2009
111 years, 205 days
JPN
29
Noemi Anderson
F
28 Sep 1897
20 Apr 2009
111 years, 204 days
USA
30
Viola Koch
F
24 May 1897
11 Nov 2008
111 years, 171 days
USA
31
Frieda Borchert
F
5 Jan 1897
22 Jun 2008
111 years, 169 days
POLGER
32
Aarne Arvonen
M
4 Aug 1897
1 Jan 2009
111 years, 150 days
FIN
33
Tsuru Tokashiki
F
24 Jun 1897
16 Nov 2008
111 years, 145 days
JPN
Ludwika Kosztyla
F
3 Aug 1897
1 Dec 2008
111 years, 120 days
POL
34
Dolors Subirana
F
18 Jul 1897
9 Nov 2008
111 years, 114 days
ESP
35
Kiku Nishimura
F
2 May 1897
22 Aug 2008
111 years, 112 days
JPN
36
Bessie Roffey
F
2 Mar 1897
17 Jun 2008
111 years, 107 days
USA
37
Daniel Guzman-Garcia
M
6 Feb 1897
21 May 2008
111 years, 105 days
COL
38
Sote Toshima
F
26 Jan 1897
22 Apr 2008
111 years, 87 days
JPN
39
Nellie Jones
F
30 Jan 1897
9 Apr 2008
111 years, 70 days
USA
40
Tatsuno Ioda
F
2 Jan 1897
4 Mar 2008
111 years, 62 days
JPN
41
Haya Kurogi
F
10 Jan 1897
2 Feb 2008
111 years, 23 days
JPN
Amanda Jones
F
16 Dec 1897
18 Dec 2008
111 years, 2 days
USA
42
Cora Gentry
F
14 Apr 1897
11 Apr 2008
110 years, 363 days
USA
Beulah Elchert
F
22 Jul 1897
1 Jul 2008
110 years, 345 days
USA
43
Kaya Kataoka
F
1 Apr 1897
27 Feb 2008
110 years, 332 days
JPN
Masatake Kinoshita
M
20 Aug 1897
17 July 2008
110 years, 332 days
JPN
45
Claudia Ketcham
F
1 Dec 1897
20 Oct 2008
110 years, 324 days
USA
46
Chrissie Martenstein
F
9 June 1897
18 Apr 2008
110 years, 314 days
USA
47
Maria Campagna
F
1 Aug 1897
2 May 2008
110 years, 275 days
ITA
48
Frieda Tessmer
F
5 Aug 1897
28 Mar 2008
110 years, 236 days
GER
49
Julia Fournier-Cuadros
F
9 Nov 1897
30 Jun 2008
110 years, 234 days
ESP
50
Mary Brown
F
5 Sept 1897
24 Apr 2008
110 years, 232 days
USA
51
Stella Cooley
F
6 Nov 1897
23 Jun 2008
110 years, 230 days
USA
52
Marelle-Jeanne Colas
F
28 July 1897
11 Mar 2008
110 years, 227 days
FRA
Francisca Guerrero [1]
F
21 Jun 1897
16 Jan 2008
110 years, 209 days
MEXUSA
Marjorie MacGown
F
17 Sep 1897
11 Apr 2008
110 years, 207 days
UK
53
Aime Avignon
M
2 Feb 1897
23 Apr 2007
110 years, 202 days
FRA
54
Hatsuyo Otsuchi
F
3 Mar 1897
10 Sep 2007
110 years, 191 days
JPN
55
Julia Tharnish
F
6 June 1897
13 Dec 2007
110 years, 190 days
USA
56
Alice Sanders
F
12 May 1897
7 Nov 2007
110 years, 179 days
PORUSA
57
Anna Monti
F
19 Oct 1897
6 Apr 2008
110 years, 170 days
ITA
Moto Oka
F
20 Sep 1897
7 Mar 2008
110 years, 169 days
JPN
58
Mary Schiazza
F
20 Mar 1897
29 Aug 2007
110 years, 162 days
ITA USA
59
Shozo Otani
M
5 Mar 1897
13 Aug 2007
110 years, 161 days
JPN
60
Gertrude Shindel
F
29 July 1897
29 Dec 2007
110 years, 153 days
USA
Hilda Bonniwell
F
12 May 1897
11 Oct 2007
110 years, 152 days
UK
61
Marie Rouch
F
29 May 1897
27 Oct 2007
110 years, 151 days
FRA
62
Eleanor Thatcher
F
19 Sep 1897
13 Feb 2008
110 years, 147 days
UK
63
Louise Bontemps
F
13 Jun 1897
6 Nov 2007
110 years, 146 days
FRA
64
Kayo Miyazaki
F
17 Sep 1897
8 Feb 2008
110 years, 144 days
JPN
65
Helene Heidbreder
F
19 May 1897
8 Oct 2007
110 years, 142 days
GER
66
Dorothy Hodgson
F
23 Jul 1897
7 Dec 2007
110 years, 137 days
UK CAN
67
Florence Johnson
F
18 Jul 1897
16 Nov 2007
110 years, 121 days
USA
Ethel Hamling
F
8 Nov 1897
26 Feb 2008
110 years, 110 days
UK
68
Kristine Brown
F
8 Sep 1897
19 Dec 2007
110 years, 102 days
USA
69
Louis de Cazenave
M
16 Oct 1897
20 Jan 2008
110 years, 96 days
FRA
Lazare Ponticelli
M
7 Dec 1897
12 Mar 2008
110 years, 96 days
ITA FRA
71
Harvey Hite
M
15 Nov 1897
16 Feb 2008
110 years, 93 days
USA
72
Lillie Taylor
F
5 Aug 1897
29 Oct 2007
110 years, 85 days
USA
73
Fusa Sugita
F
23 Feb 1897
18 May 2007
110 years, 84 days
JPN
Adele D'Amico Peluso
F
10 Jun 1897
2 Sep 2007
110 years, 84 days
ITA
75
Shizu Shizuno
F
25 Jan 1897
13 Apr 2007
110 years, 78 days
JPN
76
Matsue Mitsuki
F
10 Feb 1897
24 Apr 2007
110 years, 73 days
JPN
77
Suwa Kondou
F
15 Nov 1897
22 Jan 2008
110 years, 68 days
JPN
78
Marie Grosclaude
F
15 Oct 1897
20 Dec 2007
110 years, 66 days
FRA
79
Aurora Lomban-Ares
F
26 Apr 1897
25 Jun 2007
110 years, 60 days
ESP
80
Lois Jones
F
7 Feb 1897
7 Apr 2007
110 years, 59 days
USA
81
Benjamin Anglin
M
27 May 1897
15 Jul 2007
110 years, 49 days
USA
Leonora Quartararo
F
27 Sep 1897
15 Nov 2007
110 years, 49 days
ITA
83
Reuel Millar
M
1 Mar 1897
15 Apr 2007
110 years, 45 days
USA
Irene Nadeau
F
25 Apr 1897
9 June 2007
110 years, 45 days
CANUSA
85
Gertrude Lewis
F
19 Dec 1897
30 Jan 2008
110 years, 42 days
USA
Marianna Smolarczyk
F
16 Feb 1897
30 Mar 2007
110 years, 42 days
POL
Jannetta Conway
F
6 Nov 1897
14 Dec 2007
110 years, 38 days
USA
Margery Hunt
F
17 Dec 1897
26 Dec 2007
110 years, 9 days
UK
86
Jeanne Bonnard-Rochet
F
29 Nov 1897
29 Nov 2007
110 years, 0 days
FRA
Graph
Outdated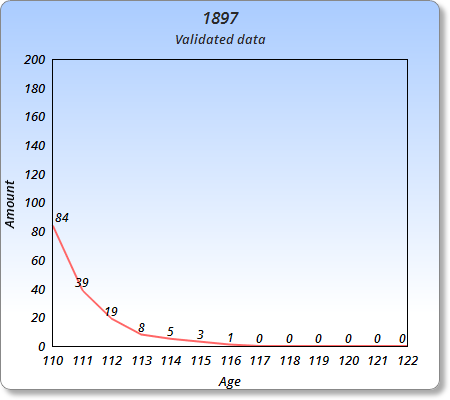 References