This is a list of supercentenarians born in 1898. As of 24 February 2018, 101 of them have been verified by GRG. 8 people are currently pending as of December 2014, which means that there is sufficient evidence to support her claim, but the verification process has not yet been completed.
There are 10 additional cases for which research has been made, but whose claimed age has not yet been reviewed and processed by GRG. This category is referred to as "unverified".
Cohort extinction took place on 6 April 2015 when Gertrude Weaver of United States passed away at the age of 116 years.
List
      Validated       Pending       Unvalidated
| Rank | Name | Sex | Birth | Death | Age | Country |
| --- | --- | --- | --- | --- | --- | --- |
| 1 | Misao Okawa | F | 5 Mar 1898 | 1 Apr 2015 | 117 years, 27 days | JPN |
| 2 | Gertrude Weaver | F | 4 Jul 1898 | 6 Apr 2015 | 116 years, 276 days | USA |
| 3 | Kame Nakamura | F | 8 Mar 1898 | 12 Sep 2012 | 114 years, 188 days | JPN |
| 4 | Mamie Rearden | F | 7 Sep 1898 | 2 Jan 2013 | 114 years, 117 days | USA |
| 5 | Leila Denmark | F | 1 Feb 1898 | 1 Apr 2012 | 114 years, 60 days | USA |
| 6 | Marie-Therese Bardet | F | 2 Jun 1898 | 8 Jun 2012 | 114 years, 6 days | FRA |
| 7 | Hatsue Ono | F | 31 Oct 1898 | 17 Oct 2012 | 113 years, 352 days | JPN |
| 8 | Marcelle Narbonne | F | 25 Mar 1898 | 1 Jan 2012 | 113 years, 282 days | ALGFRA |
| 9 | Maria Diaz | F | 22 Feb 1898 | 29 Oct 2011 | 113 years, 249 days | ALGFRA |
| 10 | Mathilde Aussant | F | 27 Feb 1898 | 23 Jul 2011 | 113 years, 146 days | FRA |
| | Lillian Anderson | F | 28 Feb 1898 | 2 Jul 2011 | 113 years, 124 days | JAM |
| 11 | Maria Luiza Nunes da Silva | F | 7 Jul 1898 | 26 Sep 2011 | 113 years, 81 days | POR |
| 12 | Stella Nardari-Vecchiato | F | 23 Dec 1898 | 23 Feb 2012 | 113 years, 62 days | ITA |
| 13 | Hagar Young | F | 11 Oct 1898 | 25 Nov 2011 | 113 years, 45 days | USA |
| 14 | Yaoe Koda | F | 1 Jul 1898 | 9 Jun 2011 | 112 years, 343 days | JPN |
| 15 | Hiro Nakae | F | 20 Oct 1898 | 19 Aug 2011 | 112 years, 303 days | JPN |
| 16 | Irma Schmidt | F | 7 Oct 1898 | 25 Jul 2011 | 112 years, 291 days | USA |
| | Carmen Villanueva [1] | F | 6 July 1898 | 9 Mar 2011 | 112 years, 246 days | MEXUSA |
| 17 | Ruth Bruce | F | 8 Oct 1898 | 8 Apr 2011 | 112 years, 182 days | USA |
| | Melinda Harris | F | 4 May 1898 | 20 Oct 2010 | 112 years, 169 days | USA |
| 18 | Onie Ponder | F | 3 Sep 1898 | 31 Dec 2010 | 112 years, 119 days | USA |
| 19 | Velma Curvey | F | 15 Sep 1898 | 24 Dec 2010 | 112 years, 100 days | USA |
| 20 | Nyleptha Roberts | F | 12 Mar 1898 | 5 May 2010 | 112 years, 54 days | USA |
| 21 | J. Reeta Jones | F | 17 Oct 1898 | 1 Dec 2010 | 112 years, 45 days | USA |
| 22 | Shika Shimada | F | 7 Jul 1898 | 20 Jul 2010 | 112 years, 13 days | JPN |
| | Teresa Dosaigues | F | 13 Feb 1898 | 25 Feb 2010 | 112 years, 12 days | ESP |
| 23 | Annie Turnbull | F | 21 Sep 1898 | 3 Sep 2010 | 111 years, 347 days | UK |
| 24 | Eunice Bowman | F | 23 Aug 1898 | 16 Jul 2010 | 111 years, 327 days | UK |
| 25 | Koto Uemura | F | 1 Mar 1898 | 21 Jan 2010 | 111 years, 326 days | JPN |
| 26 | Aki Onozaki | F | 1 Apr 1898 | 18 Feb 2010 | 111 years, 323 days | JPN |
| 27 | Jane Gilsenan | F | 8 May 1898 | 8 Mar 2010 | 111 years, 304 days | USA |
| | Elena Bordeian | F | 13 Apr 1898 | Apr 2010 | 111 years, ca. 300 days | MOL |
| 28 | Maria de la O Soria | F | 9 Apr 1898 | 23 Dec 2009 | 111 years, 258 days | ESP |
| 29 | Susan Middleton | F | 19 Jan 1898 | 2 Nov 2009 | 111 years, 256 days | USA |
| 30 | Andresa Guerrero | F | 30 Nov 1898 | 5 Aug 2010 | 111 years, 248 days | ESP |
| | Chiyo Awa | F | 15 May 1898 | 30 Nov 2009 | 111 years, 199 days | JPN |
| 31 | Antonio de Castro | M | 6 Jan 1898 | 22 Jun 2009 | 111 years, 167 days | POR |
| 32 | Garland Adair | M | 30 Jul 1898 | 11 Dec 2009 | 111 years, 134 days | USA |
| 33 | Louisa Shephard | F | 14 Sep 1898 | 19 Jan 2010 | 111 years, 127 days | UK |
| 34 | Wally Baker | F | 9 Jan 1898 | 8 Apr 2009 | 111 years, 89 days | USA |
| 35 | Pinkie Galbreath | F | 19 Mar 1898 | 16 Jun 2009 | 111 years, 89 days | USA |
| | Kate Lowenthal | F | 17 Sep 1898 | 3 Dec 2009 | 111 years, 77 days | USA |
| 36 | Shitsuko Araki | F | 24 Mar 1898 | 3 Jun 2009 | 111 years, 71 days | JPN |
| 37 | Mary Schumacher | F | 29 Aug 1898 | 29 Oct 2009 | 111 years, 61 days | USA |
| 38 | Theresia Staffler | F | 15 Nov 1898 | 11 Jan 2010 | 111 years, 57 days | ITA |
| | Lillian LeBlanc | F | 26 Dec 1898 | 20 Feb 2010 | 111 years, 56 days | USA |
| 39 | Virginia Call | F | 3 Jan 1898 | 10 Feb 2009 | 111 years, 38 days | USA |
| 40 | Harry Patch | M | 17 Jun 1898 | 25 Jul 2009 | 111 years, 38 days | UK |
| 41 | D. Ruth Kelly | F | 20 Sep 1898 | 28 Oct 2009 | 111 years, 38 days | USA |
| | Michalina Wasilewska | F | 21 Dec 1898 | 3 Jan 2010 | 111 years, 13 days | POL |
| 42 | Catharina Peters-Keultjes | F | 14 Mar 1898 | 20 Mar 2009 | 111 years, 6 days | NED |
| | Juanita Elliott | F | 24 Dec 1898 | 29 Dec 2009 | 111 years, 5 days | USA |
| 43 | Germaine Fosse | F | 24 Dec 1898 | 18 Dec 2009 | 110 years, 359 days | FRA |
| 44 | Emilie Lavoie | F | 10 Apr 1898 | 2 Apr 2009 | 110 years, 357 days | CAN |
| 45 | Epsie Wilson | F | 25 Feb 1898 | 7 Feb 2009 | 110 years, 348 days | USA |
| 46 | Judith Pinard | F | 3 Jul 1898 | 13 Jun 2009 | 110 years, 345 days | CAN |
| 47 | Emilia Revello | F | 1 Jun 1898 | 24 Apr 2009 | 110 years, 327 days | ITA |
| 48 | Aline Beslay | F | 17 Jun 1898 | 6 May 2009 | 110 years, 323 days | FRA |
| 49 | Umeno Arai | F | 10 Nov 1898 | 21 Sep 2009 | 110 years, 315 days | JPN |
| 50 | Takashi Hattori | M | 12 Mar 1898 | 12 Jan 2009 | 110 years, 306 days | JPN |
| 51 | Yoshi Kobayashi | F | 2 Sep 1898 | 4 Jul 2009 | 110 years, 305 days | JPN |
| 52 | Romanie Pollet | F | 21 Dec 1898 | 17 Oct 2009 | 110 years, 300 days | BEL |
| 53 | Lula Lykins | F | 3 Feb 1898 | 16 Nov 2008 | 110 years, 287 days | USA |
| 54 | Elsa Everly | F | 11 Apr 1898 | 23 Jan 2009 | 110 years, 287 days | USA |
| 55 | Johanna Boost-Dalloyaux | F | 28 Aug 1898 | 1 Jun 2009 | 110 years, 277 days | NED |
| | Anna Wilmot | F | 15 Aug 1898 | 10 May 2009 | 110 years, 268 days | USAPHL |
| 56 | Mary Acierni | F | 14 Feb 1898 | 2 Nov 2008 | 110 years, 262 days | ITA USA |
| 57 | Pasqualina Franco | F | 2 Dec 1898 | 16 Aug 2009 | 110 years, 257 days | ITA CAN |
| 58 | Doreen Washington | F | 24 May 1898 | 4 Feb 2009 | 110 years, 256 days | AUS |
| 59 | Gertrude Noone | F | 30 Dec 1898 | 10 Sep 2008 | 110 years, 254 days | USA |
| 60 | Jeanne Berget | F | 13 Jul 1898 | 6 Mar 2009 | 110 years, 236 days | FRA |
| 61 | Helene Carrion | F | 14 Oct 1898 | 5 Jun 2009 | 110 years, 234 days | FRA |
| | Elsie Freeman | F | 13 Jun 1898 | 31 Jan 2009 | 110 years, 232 days | USA |
| 62 | Betty Rutherford | F | 4 May 1898 | 11 Dec 2008 | 110 years, 221 days | USA |
| 63 | Maria-Eufemia Domenici | F | 12 Aug 1898 | 16 Mar 2009 | 110 years, 216 days | ITA |
| | Tsue Watanabe | F | 4 Jun 1898 | 4 Jan 2009 | 110 years, 214 days | JPN |
| | Chika Kitagawa [2] | F | 1 Mar 1898 | 11 Sept 2008 | 110 years, 194 days | JPN |
| 64 | Anthone Phipps | F | 7 Dec 1898 | 14 Jun 2009 | 110 years, 189 days | USA |
| 65 | Nellie Florence | F | 30 Mar 1898 | 21 Sep 2008 | 110 years, 175 days | USA |
| 66 | Denise Fetrot | F | 27 Jan 1898 | 15 Jul 2008 | 110 years, 170 days | FRA |
| 67 | Jeanette Pluim | F | 8 Oct 1898 | 9 Mar 2009 | 110 years, 152 days | USA |
| 68 | Susie Alston | F | 6 Jul 1898 | 28 Nov 2008 | 110 years, 145 days | USA |
| 69 | Antonia Pampaluna | F | 15 Feb 1898 | 4 Jul 2008 | 110 years, 140 days | ITA |
| 70 | Emma Joisten | F | 21 Jun 1898 | 8 Nov 2008 | 110 years, 140 days | GER |
| 71 | Mary Higley | F | 10 Aug 1898 | 25 Dec 2008 | 110 years, 137 days | USA |
| 72 | Ismene Baffard | F | 24 Oct 1898 | 4 Mar 2009 | 110 years, 131 days | GLP,FRA |
| 73 | Salome Korn | F | 12 Dec 1898 | 16 Apr 2009 | 110 years, 125 days | USA |
| 74 | Willemina Everdina Hol | F | 3 Feb 1898 | 5 Jun 2008 | 110 years, 123 days | NED |
| 75 | Lina von Veh | F | 17 Feb 1898 | 19 Jun 2008 | 110 years, 123 days | RUSGER |
| 76 | Hermina Dunz | F | 24 Feb 1898 | 14 Jun 2008 | 110 years, 111 days | CROAUT |
| | Willie Gray Watkins | F | 17 May 1898 | 28 Aug 2008 | 110 years, 103 days | USA |
| 77 | Clarice Pearson | F | 17 Dec 1898 | 22 Mar 2009 | 110 years, 95 days | USA |
| 78 | Sue Morino | F | 18 Mar 1898 | 20 Jun 2008 | 110 years, 94 days | JPN |
| 79 | Lucia Rangone | F | 15 Jan 1898 | 5 Apr 2008 | 110 years, 81 days | ITA |
| 80 | Rose McCloskey | F | 25 Oct 1898 | 14 Jan 2009 | 110 years, 81 days | USA |
| 81 | Hulda Karlsson | F | 2 Feb 1898 | 22 Apr 2008 | 110 years, 80 days | SWE |
| 82 | Kou Inabayashi | F | 20 Dec 1898 | 27 Feb 2009 | 110 years, 69 days | JPN |
| 83 | Delfino Borroni | M | 23 Aug 1898 | 26 Oct 2008 | 110 years, 64 days | ITA |
| 84 | Antonia Plaat-Kolenbrander | F | 6 Jan 1898 | 9 Mar 2008 | 110 years, 63 days | NED |
| 85 | Delpha Johnson | F | 21 May 1898 | 22 Jul 2008 | 110 years, 62 days | USA |
| 86 | Mary Sloan | F | 11 Jun 1898 | 12 Aug 2008 | 110 years, 62 days | CAN |
| 87 | Marie-Madeleine Hellio | F | 7 Nov 1898 | 5 Jan 2009 | 110 years, 59 days | FRA |
| 88 | Minnie Smith | F | 5 Jan 1898 | 3 Mar 2008 | 110 years, 58 days | UK |
| | Blanche Nelson | F | 22 Feb 1898 | 14 Apr 2008 | 110 years, 52 days | USA |
| 89 | B. Ethel Darby | F | 6 Jan 1898 | 25 Feb 2008 | 110 years, 50 days | UK |
| 90 | Angela Sottili | F | 21 Feb 1898 | 11 Apr 2008 | 110 years, 50 days | ITA |
| 91 | Charlessa Wiggins | F | 9 Feb 1898 | 29 Mar 2008 | 110 years, 49 days | USA |
| 92 | Marie-Louise Renier | F | 21 Nov 1898 | 5 Jan 2009 | 110 years, 45 days | FRA |
| 93 | Fernande Revel | F | 2 Sep 1898 | 12 Oct 2008 | 110 years, 40 days | FRA |
| 94 | Abeline Spiehs | F | 4 Sep 1898 | 12 Oct 2008 | 110 years, 40 days | USA |
| 95 | Ruth Emblow | F | 6 Feb 1898 | 16 Mar 2008 | 110 years, 39 days | USA |
| 96 | Alexina Calvert | F | 13 Aug 1898 | 19 Sep 2008 | 110 years, 37 days | UK |
| 97 | Maria-Lucia Ugual | F | 3 Apr 1898 | 3 May 2008 | 110 years, 30 days | ITA |
| 98 | Blanche Chevrier | F | 20 Feb 1898 | 20 Mar 2008 | 110 years, 29 days | USA |
| 99 | Franziska Maier | F | 23 Apr 1898 | 20 May 2008 | 110 years, 27 days | CZEGER |
| | Rosa Mastromarino | F | 22 Dec 1898 | 9 Jan 2009 | 110 years, 18 days | ITA |
| 100 | Alta Moore | F | 29 Jan 1898 | 14 Feb 2008 | 110 years, 16 days | USA |
| 101 | Cecelia Ruppert | F | 17 Aug 1898 | 31 Aug 2008 | 110 years, 14 days | USA |
| | Jessie Lemon | F | 4 Mar 1898 | 17 Mar 2008 | 110 years, 13 days | USA |
Graph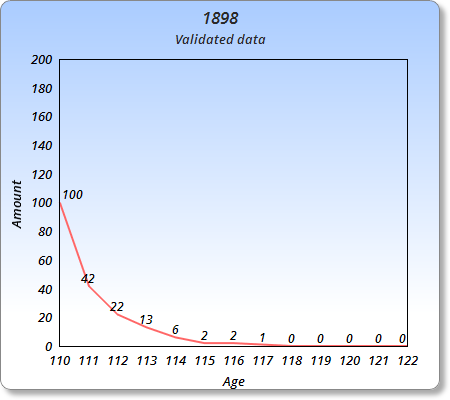 References
↑

Japanese Centenarian Directory, September 2003 & Kochi Shimbun, 12 September 2008