Louvenia Posey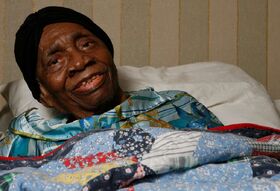 Unvalidated
Louvenia Posey (née Wormley; 5 April 1900 – 1 March 2014) was an American supercentenarian who is currently unverified.
Early file
Louvenia Wormley, the youngest of four children, was born to Frank Wormley and Lucreasey Martin Wormley on 5 April 1900 in Fayetteville, Texas and spent her early years there, as well as in Spring Hill, Texas where she attended school that served as both the church and the school in that area. After father's death, Lucreasey later married and through that union, Louvenia gained three more siblings. Louvenia's mother died when she was five years old and the children were split up amongst several aunts in the family. Louvenia went to live with her aunt and uncle, Texana and Johnny Martin, who raised her as their own.
Adult life
When she was 17, she moved to Houston's Acres Homes and began working for two families, cooking, cleaning and taking care of their children. She worked as a seamstress, making dresses and coats for two or three dollars. She married Matt Posey. She lived in Acres Homes with her husband until his death, then relocated to Windsong Village Nursing Home in Pearland, Texas, where her life's journey ended as she slept.
Later life
In honor of her 107th birthday, then-President George Bush sent her a belated birthday greeting from the White House, and on her 112th birthday, President Barack Obama and First Lady Michelle Obama extended birthday wishes as well. Louvenia was a longtime member of Mt. Ararat Missionary Baptist Church, where she taught Sunday School, sang in the choir and never missed an opportunity to tell others about the "goodness of the Lord," or about her love of listening to Homer Lewis sing. She passed away on 1 March 2014 in Pearland, Texas, United States.
References