Lucy Woodman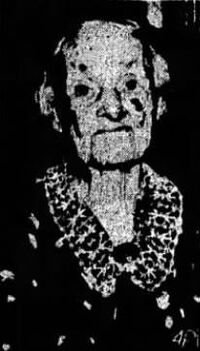 Centenarian
Lucy Jane Woodman (neé Currier; 3 May 1841 – 28 April 1951) was an American centenarian who may have been the oldest living person in the world at the time of her death.
Biography
She was born as Lucy Jane Currier in Paw Paw, Van Buren County, Michigan. She moved to Marshall County, Kansas, in the 1890s and lived in Marshall County most of her life. She married Wells David Woodman on 5 March 1862 in Almena Township, Van Buren County, Michigan. She became a widow in 1917.
Woodman died on 28 April 1951, at the age of 109 years, 360 days.
References
Ad blocker interference detected!
Wikia is a free-to-use site that makes money from advertising. We have a modified experience for viewers using ad blockers

Wikia is not accessible if you've made further modifications. Remove the custom ad blocker rule(s) and the page will load as expected.