Maggie DeVane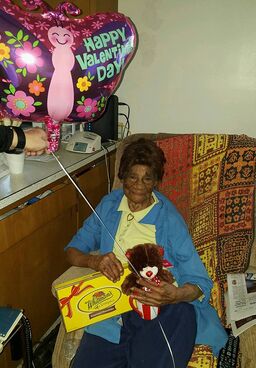 Unvalidated
Maggie DeVane (née Johnson; 17 November 1905 – 12 September 2017) was an American supercentenarian who is currently unvalidated.
Biography
Maggie was born in Rex, North Carolina on 17 November 1905 to Henry (1848–1916) and Nannie Johnson. Her father was a slave who was also a Civil War veteran. She grew up with 17 siblings. All of her brothers and sisters passed away before her. Her sister, Inez Womack, passed away at age of 106. Maggie never drank alcohol. Maggie married Junious Devane on 14 April 1934. They had one son, Gene Devane. She taught third grade at what is now St. Pauls Elementary for a number of years, and served as secretary for the First Baptist Church in St. Pauls before retiring.
Maggie has only been hospitalized once, and that was for hip surgery in 2010 at the age of 105. She used a walker to get around. Her hearing and vision were good.
She died on 12 September 2017 in St. Pauls, North Carolina at the age of 111 years, 299 days.
References
Ad blocker interference detected!
Wikia is a free-to-use site that makes money from advertising. We have a modified experience for viewers using ad blockers

Wikia is not accessible if you've made further modifications. Remove the custom ad blocker rule(s) and the page will load as expected.