Marguerite Duperray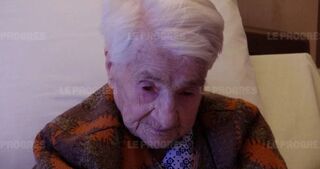 Marguerite Duperray at the age of 110.
Unvalidated
Marguerite Duperray (12 February 1906 – 27 January 2018) was a French supercentenarian who is currently unverified.
Biography
Marguerite was born in Tarare, Auvergne-Rhône-Alpes, France on 12 February 1906. She was the only daughter in the family. Her father died during World War I in 1917 on the day of her communion. Her mother, who was born in 1877, died in 1969
Marguerite started working at the age of 13. After spending her professional life in embroidery, she helped her godson (whose grandmother was her mother's sister) and his wife to sale fruits and vegetables on the market in Tarare until around 2000. She never married and had no children.
She passed away in Saint-Clément-sur-Valsonne, France on 27 January 2018 at the age of 111 years, 349 days.
References